So What Is MMA?
When a lot of casual fans hear the term MMA, they likely automatically think of the UFC. You know, the company that is headed by Dana White and, in all fairness, could be the driving force and reason that MMA has become such a popular sport over the last decade. However, MMA is much, much, more than just the UFC. And finding quality gear (MMA Shin Guards, MMA fight shorts, Grappling dummy etc) is a MUST!!
MMA is short for mixed martial arts. You may be familiar with karate, tae kwon do, kickboxing and wrestling. Even more advanced sports fans probably know about judo, Brazilian Jiu-Jitsu, or even Muay Thai. MMA is all of these sports, better yet, arts, combined into one full-contact sport that takes place in a ring between two men or women.
In early MMA, fighters could head-butt, knee to the groin and so much more. However, the sport has evolved in recent years and includes a variety of rules that differ among leagues. All in all, MMA is a growing sport that can now be mentioned in the same sentence as basketball, football, soccer, hockey and baseball, in terms of common household sports. This site will take a look at the details of MMA and quality training gear. We're talking about athletic MMA gear like:
We also  discuss fighting styles, diet and supplementation and more. Whether you are a MMA-vet, a parent looking for the best Karate uniforms for kids,  or you are interested in getting into the sport, you can rely on us to help you find the best information for your growing fascination with this sport.

MMA Gear: MMA Fight Shorts to a Quality Grappling Dummy
This first section is going to take a look at some of the gear that comes in a MMA gear bundle, and what should be in your gym bag. If you are just trying MMA out for the first time, it's fine to head over to the gym with your current basketball shorts and even a regular t-shirt.
But if you are going to get serious about this sport, you are going to have to make some investments into real MMA gear. This part of the site will take a look at the gear you should invest in, what to look for when making that investment and why it's so important to have good gear when on the mat.
Begin with MMA Fight Shorts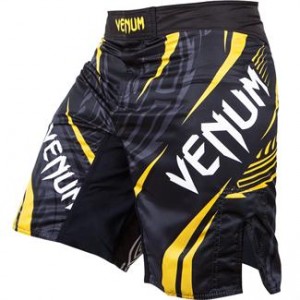 As mentioned in the section above, the first thing you'll likely want to invest in is a solid pair of MMA shorts. As you read this, understand that there are a variety of options when it comes to picking up a pair of MMA Fight shorts. Shorts vary based off of:
Fighting style (e.g Jiu-Jitsu, Muay Thai)
Comfort (Board, Vale Tudo)
Look and preference. (e.g Bad Boy, Venum, Hayabusa )
Grappling shorts
Most typically, MMA fighters prefer to wear what most people would consider to be board shorts or grappling shorts. These shorts are around knee-length and have small slits in the sides around the knee.
These shorts are very comfortable and perfect for fighting, as they are versatile and also reliable. Many MMA fighters prefer board or grappling shorts because they are a bit longer, which means that they cover a bit more of the skin in the leg area. This is extremely helpful when getting kicked in the thigh repeatedly by a kickboxing specialist.
These MMA board and grappling shorts also allow more room a protective cup, which will be discussed further later on. Keep in mind that under a pair of MMA board shorts, you should be wearing compression shorts. This will add support for under your MMA Fight shorts.
Vale Tudo shorts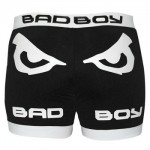 If you aren't a huge fan of larger shorts, many new-age MMA fighters can be seen wearing Vale Tudo shorts. Unlike board shorts that are a bit bigger and more baggy, Vale Tudo shorts are skin tight to the fighters body.
The length of Vale Tudo shorts vary depending on the fighter, ranging from shorter pairs that go to the mid-part of the thigh, to longer pairs that go to just above the knee cap. Guys like Anderson Silva, Phil Davis and Mauricio Shogun Rua are known for their Vale Tudo shorts that they wear inside of the octagon.
Aside from the shorts that you practice and fight in, you'll also want to consider having a pair of weigh-in shorts as well. If you get to a point in this sport where you begin fighting, you'll have to weigh-in before matches. And when you do so, it is often customary for fighters to have different shorts that will help them keep weight off the scales when they are trying to make their weight-class. See our picks for the top 5 Vale Tudo Shorts Here!!
Click to find high quality MMA shorts of all brands at MMAWarehouse!!
Quality MMA Gloves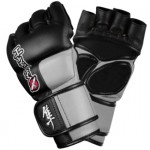 When it comes to gloves for mixed martial arts, you have to consider the fact that you need something that will protect your hand, but boxing gloves are out of the question since you'll also be able to need to grapple with your opponent. That is where MMA gloves come into play.
These gloves are open-fingered that allow you to grab hold your opponent to sink in a submission or defend yourself, but they also have padding on the backhand and knuckle areas. MMA gloves vary from 4-6 ounces, depending on the size and material.
For sake of comparison, boxing gloves weigh upwards of 20-ounces, so you can immediately tell that MMA gloves need to be lighter and have less padding. This less padding means the potential for much harder between striking opponents. Later on, we'll take a further look at MMA gloves and what you should consider buying (we won't leave out the kids).
Click Here to check out Top MMA Glove of all brands at MMAWarehouse!!
MMA Shin Guards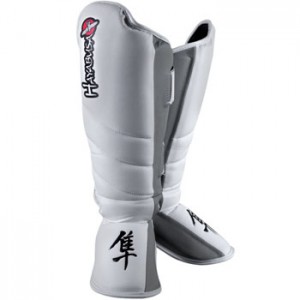 When you are sparing and practicing, another piece of equipment you'll want to have is your MMA shin guards. MMA shin guards are exactly what they sound like. They are padded material that runs from below your knee cap onto the top of your toe.
MMA shin guards are necessary for a variety of reasons. When you are just sparing, you obviously don't want to go all-out with someone that you train with on a regular basis. That is a great way to get hurt and make some enemies in the gym real fast. Instead, shin guards allow you to pad your kicks a bit, while keeping everyone safe.
Shin guards will also keep your legs protected when you are kicking a dummy or bag. Guards will afford for you to go all out to build your kicking strength, without having to worry as much about the potential of injury.
You can find high quality Shin Guards of at a discount at MMAOutlet!!
Top Quality Rash Guards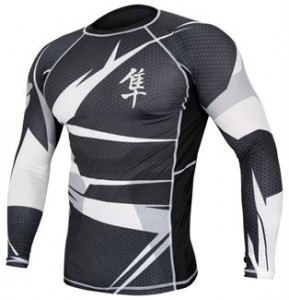 More often than not, if you fight in a professional or amateur fight, you won't be able to wear a shirt. In some promotions, such as the UFC, only women fighters are allowed to wear shirts. And hey, if you've been working to get in great shape, why would you want to wear a shirt anyway?
Well, while you may not want to wear a shirt during your fight, you will want to wear one during practice. These shirts, known as rash guards come in a variety of designs, most of which are a compression-style shirt.
Some athletes prefer sleeveless rash guard shirts, while others prefer a quarter-sleeve or even a full-sleeve compression shirt. Whatever you choose is up to you and what makes you comfortable when practicing.
We'll talk in more detail later about the benefits and disadvantages of each style of rash guard, but there is no understating the importance of wearing one. In doing so, you'll keep upper body protected from the potential of getting rashes, especially when you are on your back defending submissions in the guard position at practice every day.
You can find high quality MMA Rash Guards of all brands at MMAWarehouse!!
MMA Mouthguards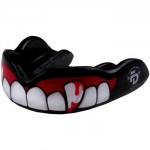 Every little thing that a fighter does says a lot about him or her. This is especially true about your mouthguard. MMA mouthguards are a chance for fighters to show a bit of personality, especially since there are so many different varieties of mouth guard styles.
Single Sided Mouthguard
When it comes time to fight, most fighters prefer to go with a single sided mouthguard that covers their top section of teeth. Not only is a mouthguard helpful for protecting your teeth, but it also prevent concussions and other dangerous health concerns that can be caused from getting hit smack-dab in the face with a roundhouse kick or backhand punch.
Your mouthguard can have a design or phrase on it, or be a certain color. This is what makes a mouthguard so unique, and can display the fighters personality.
 double-sided Mouthguard
Another option for mouthguard, which most fighters prefer to use during practice, is a double-sided mouthguard. These double-sided mouthguards protect both the top and bottom teeth and are connected. In order to breathe out of the mouthguard, there is a slit in between the piece that allows airflow to circulate through.
It's important to understand that you shouldn't skimp on your mouthguard. Sure, you can pay for an inexpensive one, but that could do more harm than good. Or you can pay for a modestly priced mouthguard and get much more protection when fighting.
Check out high quality Mouth guards at MMAWarehouse or MMAOutlet!!
MMA Groin Protector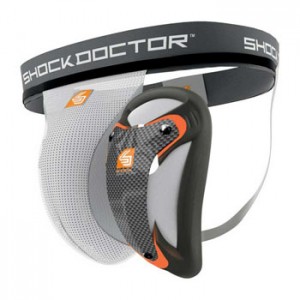 Now, let it be known that shots to the groin are completely illegal in MMA. So much so that if you kick to the groin, you could have points taken off or even disqualified. However, that's not to say that accidents don't happen and occasionally, you could get a shot to the junk.
That's why it is imperative that you have a groin protector inside your shorts. Groin protectors are often an actual pair of compression shorts that go under your shorts. Then, around the groin area, there is a slit that allows you to slide a protective cup into.
Unlike jock straps of old, a groin protector is very comfortable and you hardly notice that it is there. It also keeps the cup in place when you are rolling around on the ground and grappling with an opponent.
You can find high quality Groin Protectors of all brands at MMAWarehouse or MMAOutlet!!
Quality Support MMA Kneepads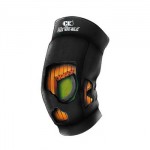 When it comes to kneepads for MMA fighters, you want to keep a few things in mind. Knee pads are great, especially for those fighters who may have had knee issues in the past, such as a torn MCL or ACL.
However, if you want to wear kneepads during a fight, you might as well be wearing a giant target on your knees that say, "hit here!" Then again, if you train with kneepads, only to go into a fight without, your knees will not be used to the instability without protection and probably not hold up for very long.
That's why it is important to wear kneepads intelligently when training. If you are having a grappling session or working on your kickboxing, be sure to strap up your kneepads. But try to avoid using kneepads with each and every training session. And certainly do not wear them if you are doing cardio or training weights.
Even though we encourage that you do the best to develop your knee strength for actually getting in the ring, we'll still take a look at some of the kneepads that MMA fighters rely on for stability.
You can find high quality MMA Kneepads  with reviews at MMAWarehouse or MMAOutlet!!
MMA Grappling Dummy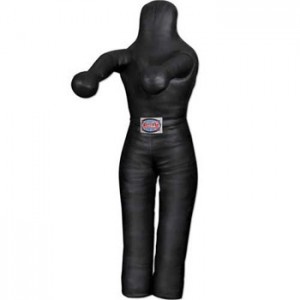 If you want to be the best, you are going to have to work harder than anyone you know. That means being in the gym, when other people simply aren't willing to be. Luckily for you, there are MMA dummies available that you can train on and work on your skills with.
There are a variety of different dummy options. Some are great for striking and others are better for grappling. We'll help you find the best dummy for your needs. MMA has only recently taken off into the stratosphere of popularity that it is currently in.
However, as the sport continues to grow and more people begin to familiarize themselves with it, it is only going to become more popular. MMA is here to stay! And we look forward to providing you with the best information and helping you find the best equipment for your MMA passion.
You can find high quality MMA Dummies at MMA Warehouse
Solid MMA Hand Wraps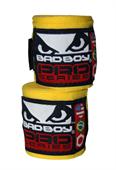 Underneath your MMA gloves, you'll want to have your hands protected correctly with hand wraps. Hand wraps are typically 180-inches long and are made of a stretchy elastic material that allows you to wrap around your hand multiple times.
At the end of each hand wrap should also be a loop for you to place your thumb in, and Velcro on the other side to secure the wraps. Hand wraps are intended to be worn over and over again multiple different times.
Even after you wear them and tape them up, you'll want to wash them occasionally so that you can wear the same hand wraps throughout your training and fighting.
You can find high quality Hand Wraps of all brands at MMAWarehouse!!
Our MMA Gear Beginners Guide
The gear we have discussed above is just some of the equipment you will need if you intend to take this sport seriously. We have assembled a detail gear guide to help you identify what you need to know about each peice of MMA Gear.