We previously took a look at the Venum Predator shin guards and ranked them as a top option for MMA athletes looking for leg protection. However, for those that don't like the look of Venum equipment, or those simply looking to weigh their options, the Hayabusa Tokushu Striking Shin Guards is an alternative choice to consider.
Hayabusa is no stranger to the MMA game, and these shin guards are representative of the quality and familiarity of the sport that their product line has as a whole.
Look And Style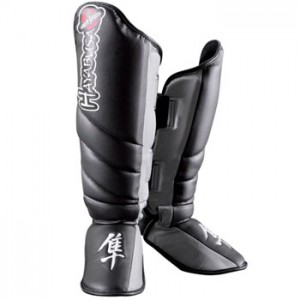 Hayabusa is completely different than most other shin guards on the market. That being said, they are beautiful in their own right. While Venum shin guards offer more open space, the Hayabusa's are nearly fully covered from your kneecap to the tips of your toes.
That means your shin and everything else in between is covered and protected, which makes for a truly unique look that other shin guards simply don't offer.
The Tokushu comes in two different color options. One choice includes a primarily black base with grey lining up the inside of the shin. It also has the Hayabusa logo on the outside of the leg.
The other option is a white and slate gray, which simply replaces the black with the white, for an equally appealing look.
Durability and Fit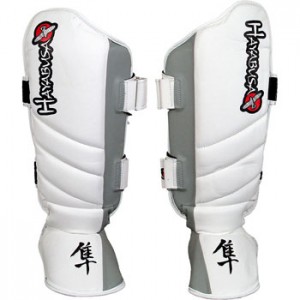 The Hayabusa Tokushu fit completely different than other shin guards on the market. That being said, they take care and diligence to assure that the fit is equally as comfortable as other options.
At first glance, it may look like these shin guards are too heavy in comparison to other options. This is mainly because of the added support around the ankle, which other shin guards typically don't offer. However, that added material is hardly noticed once you put the shin guard on. Instead Hayabusa specializes in ensuring the perfect combination of comfort and protection.
On the back of the Hayabusa Tokushu are double straps to wrap your around calf muscles. You will likely be quite surprised with how well these shin guards strap in, allowing for maximum comfort, without having to readjust your shin guards all of the time. And because these shin guards use straps instead of an instep, you'll still get the proper leg ventilation that will keep your legs properly cooled and comfortable.
On top of it all, this model of shin guard is lightweight, which makes for great leg training to build your leg speed. Don't be fooled by the added material, as it certainly won't slow you down or deduct from your kick speed in a negative way at all.
Price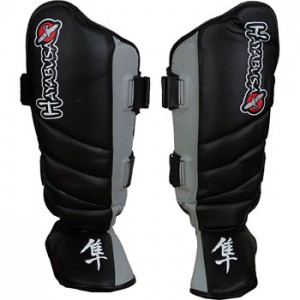 The retail value of the Hayabusa Tokushu is around $140. However, if you look around online you can find them for closer to $100 (check mmawarehouse). This is comparable to other brands like Venum, making it a reasonable price for the price market that it's in.
Pros
Extremely high quality and durability

Added material around the ankle for more support and protection

Double straps to add comfort and stability around the calf muscles

 
Cons
Some may not like the added support around the ankles, as it's a bit different than other shin guar options

Slightly higher retail price, but they can be found for cheaper with a bit of effort
Rating 4.5 out of 5 stars
Conclusion
If you are willing to spend the money on the Hayabusa Tokushu Striking Shin Guards, you will get what you pay for. This is a reliable and sturdy pair of shin guards that will be sure to last you for years of training. There is no denying that they do physically look a bit different than other options on the market, but that added support will likely be appreciated once you get used to training in them.
And considering the fact that the added support does not add to the overall weight, you may not even realize that the ankle protection is there. If you've ever trained with or worn Hayabusa before, you are going to get the same quality and longevity with these as you'd expect with any other product on their line.
Thanks for visiting the MMA Nest, if you are a beginner remember to check out our Beginner Gear Guide.