In our last article we looked at the Combat Sports Shin Guard so see if it makes the grade. Today we put Jabco from and center, and assess the Resurgence Fight shorts. If you are looking for a minimalist looking pair of fight shorts that offer plenty of comfort and quality, then you will enjoy the Jaco Resurgence MMA Fight Shorts.
You won't get much in terms of style, but these particular shorts offer tons of comfort and come from an industry leader in the fight apparel industry. Here is a look at why you may want to check out a pair of Jaco Resurgence shorts.
Look And Style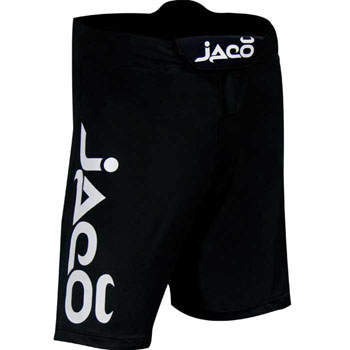 If you like creative and colorful fight shorts, the Jaco Resurgence may not be for you. Without a doubt, they are simple and offer a minimalist design. However, if you are a fighter or an athlete that doesn't care about the looks, or you simply really enjoy white or black, then these shorts will certainly do the job.
The Jaco Resurgence fight shorts come in three different color options; black, white and green. In all three sets, you get a full-tone color that takes up the entire thigh section of the shorts. Along the right thigh is the "Jaco" emblem, which can also be seen along the strap that is at the midsection of these shorts.
To set off the main color of the shorts, the midsection is a black colored stripe, which looks especially great on the green and white models.
Durability and Fit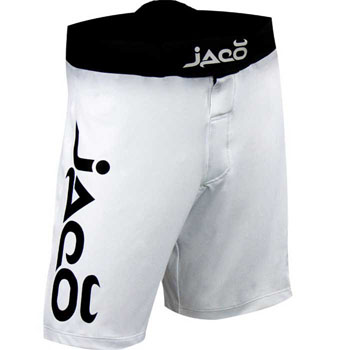 While the Jaco Resurgence shorts may not knock your socks off with the look, the comfort and fit is where they excel. With such little design, you get a smooth and comfortable feeling pair of shorts on both of your legs.
With some other pairs of fight shorts, logos and other features will protrude outwards and can sometimes be uncomfortable, especially when rolling around on the ground in a grappling position. However, since these shorts offer very little in terms of physical graphics, that will not be a concern for you.
The material of the Jaco Resurgence shorts provide great flexibility for a variety of different MMA positions.
Whether you are reaching for a jab, throwing a push kick, or grappling on the ground, you can rest assured knowing that you'll be comfortable in each situation. And because they are incredibly light, you'll be able to do all of these fighting movements much quicker than a pair of pants that are heavy and weigh you down.
Price
Jaco Resurgence fight shorts typically run between $50 and $60. Some people may view that price tag and want more graphics or other things on their shorts, but that's not what you're paying for here. Instead, you get a reliable and comfortable pair of shorts with a minimalist look. When it comes to Jaco, they don't try and mesmerize fighters with graphics, but instead they keep it simple and comfortable.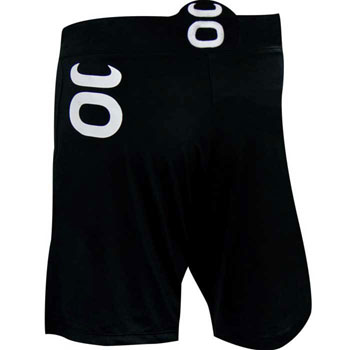 If you want to stick with Jaco, but you don't like the basic Resurgence models, there are also three different other options. Jaco offers special Brazilian, USA and European Resurgence shorts, with the same look but with national flags on the left thigh. Jaco also has a variety of Vale Tudo shorts, which is where this apparel company really strives to please fighters.
Pros
Insane comfort with a minimalist design
The strap that holds together the shorts is very comfortable and it doesn't dig into your abdomen when working out.
Jaco is known for creating quality shorts, which is certainly on display here.
Cons
 If you are looking for a pair of fight shorts that offer tons of graphics, this isn't it. There are obviously some pairs of shorts out there that offer logos, slogans and other elements that some fighters really get a kick out of. And while there is certainly nothing wrong with that, you may want to look elsewhere if you fall into that category, because these shorts are for those that are more interested in comfort than they are design.
Rating  out of 5 stars
Conclusion
Jaco provides a variety of different fight shorts that are incredibly comfortable and appealing to simplistic fighters. While their specialty is in the Vale Tudo market, the Jaco Resurgence is a great product that should be considered by fighters and athletes that are looking for something simple and reliable.
Thanks for visiting the MMA Nest, if you are a beginner remember to check out our Beginner Gear Guide.