Alright boys and girls, it's time that we go a bit more in-depth into each of the articles that should be part of your MMA bag. Here we'll be talking about some of the beginner apparel that you need and how it'll help you. We'll also discuss the difference between the apparel as we try and help you find the perfect setup for you. So enough talk, here we go!
MMA Fight Short / Grappling Shorts
Grappling shorts are a perfect representation of what MMA is. If you are a fan of MMA, then you'll have to agree that grappling shorts are just really cool when it comes to appearance and comfort. Take a look at old UFC videos when athletes could wear anything from Speedos to full out Gui's and you'll see how much the sport has progressed.
We have an appreciation for whatever floats your boat, but MMA grappling shorts represent the new age that has taken over the sport. They are plenty comfortable and also can display the fighter's personality with a varying amount of graphics and logos.
All in all, one of the best purchases you'll ever make as a mixed martial artist is your first pair of grappling shorts. Therefore, you should make sure they are exactly what you want and worth the investment.
Why Are MMA Grappling Shorts Necessary?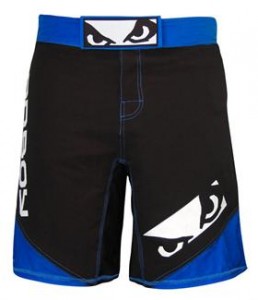 We've mentioned a few different times that basketball shorts or other types of athletic shorts won't work when participating in MMA. What we haven't mentioned is why. The truth is that other types of shorts that are made of cotton are more likely to absorb and hold in sweat.
This means that after an intense warm-up that gets you sweating, you'll be expected to get on the ground and start rolling around with your training partner. You can bet that nobody wants to roll around with someone who has sweat that excrete sweat every time you go for a leg lock or get into full mount.
Some people may also think that they can take their board shorts from the pool into the gym as well. And within reason, you can. However, most board shorts have laces or Velcro that can harm your opponent when getting in contact with one another. And while the point of MMA is to win by beating your opponent, you don't want to do it because they get a huge scrape on their face because of your shorts.
Instead, getting a pair of solid grappling shorts will not only be better for going one on one with your opponent or sparring partner, but they'll also be more comfortable for you. MMA shorts are typically cut to allow for more room in the legs. This means that you'll have better flexibility and mobility when on the mat.
Cost Of Grappling Shorts
A solid pair of MMA grappling shorts is going to run you about $70. We say that with the understanding that there are plenty of options that will cost less and even a few that cost more. However, a consistent median for MMA shorts is roughly $70.
Grappling shorts are likely to be one of your bigger investments into the sport, but there still isn't a need to go crazy with how much you pay. Then again, you don't want to skimp on the price either, especially considering how often you'll be wearing the shorts and how much they say about your personality as a fighter.
What To Look For In MMA Grappling Shorts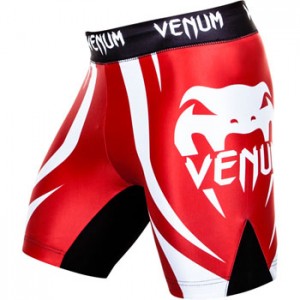 One word. Comfort. That is the most important thing you should be looking for in a pair of grappling shorts. That's not to say that you won't want to find a pair of shorts that look great too. But comfort should be your first priority in something that is going to be a mainstay of your MMA gym bag.
Keep an eye out for how the shorts fit around your waist area. Grappling shorts aren't something you'll want sagging off of you. If they are, you might find yourself dropping your hands to pull up your pants, and getting knocked out in the process. Also look for a pair that has plenty of room in the thigh area. As you develop your kicking game, you'll want to have grappling shorts that allow you to extend your leg, without being restricted at all due to the shorts not having enough room.
Lastly, make sure that your shorts are lightweight and made of a material like nylon or polyester. These types of materials will dry quickly and absorb sweat. This will also help you from getting swampy in the leg and crotch area, which can be mess with you mentally when you are heading into the third round back-and-forth fight.
MMA Grappling Shorts Checklist:
Comfort should be your first priority.
Nylon or polyester are typically a safe bet.
One of your first big investments, so make it worth it.
$70 is about average for a solid pair.

 
Rash Guards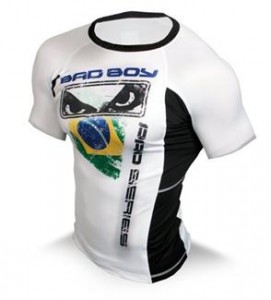 Even though you'll never wear a rash guard into a fight, it is probably one of the first pieces of equipment that you should add to your gym bag. A rash guard will help protect your body from rashes and abrasion as you roll around on the mat while working on your ground game.
Rash guards will also help insulate your body, which will help you shred water when you are trying to get to your weight class for your fight. Lastly, rash guards can help a mixed martial artist when it comes to protecting them against cuts, bruises and mat burns. After all, when you go into a fight, the last thing you want to do is give your opponent something specific to target because of an injury you sustained in practice.
Cost Of Rash Guards
Understand that when it comes to picking up a rash guard, you can pay anywhere from $10 to $100. It truly depends on the type of material you are looking for and if you want to purchase a brand name from a top MMA supplier.
And while you will get what you pay for and you shouldn't skimp on a rash guard, also understand that some of the more pricey options may be a bit extreme for what it is you might be looking for. After all, you are only using this rash guard in practice and not when it comes fight time. You can probably expect to settle around the $50-mark for a solid rash guard that is both stylish and protective.
What To Look For In A Rash Guard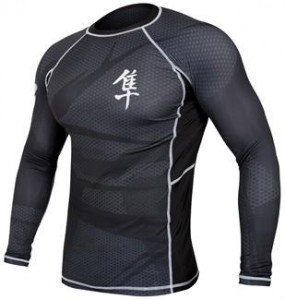 When you go to buy a rash guard, you should first look at the stitching. When you are rolling around on the ground and training consistently, if you have a poorly constructed shirt, you can bet that it will start to fray and come apart. The higher quality rash guards will display how many threads they have, for which you should be looking for at least four or five threads. Anything less probably won't cost you as much, but it also might not last you as long either.
Also keep in mind that you likely won't want to have stitches in the armpit area. This can be uncomfortable, especially as you start to work up a sweat. Ironically, rash guards with stitches in the armpit can result in irritation or rashes in the area, so be sure to stay away from them.
For the material of the rash guard you will want to find the perfect balance between something that is strong and durable, yet comfortable as well. Once you start to work up a sweat, you'll realize that rash guards that are of less quality will be more of a hindrance than anything else. That's why it is important to have something that can take a beating, without making you feel uncomfortable or having you constantly readjusting your clothing.
And as for look, well that is going to come down to preference. There are long sleeve, quarter sleeve and tank top style rash guards. Consider the type of conditions you'll be training in when trying to decide on the perfect rash guard.
Long sleeve guards will likely help you sweat more and be more protected on your biceps and arms. But tank top style rash guards may be more comfortable when doing a ton of cardio and working up a heavy amount of sweat. As for the name and color of the rash guard, that is completely up to you. But try and get something that looks good with your grappling shorts so you can be both comfortable and stylish when training.
MMA Rash Guard Checklist:
Look for a rash guard that is durable, yet comfortable.

Stitching is usually a good sign for durability.

You get what you pay for.

Don't undervalue the importance of a rash guard during training.

 
Hand Wraps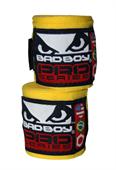 A lot of beginner MMA athletes may think that your gloves are the most important pieces of equipment to have on your hands. However, hand wraps are the foundation that both protect and support. Even with a pair of gloves getting between your fist and the jaw of an opponent, that isn't always enough protection when your fists are flying at a furious pace.
However, having your hands wrapped a few times will give you added layers of protection for the fragile bones that make up your fingers and fist. The added length of hand wraps are intended to wrap around your wrists as well. This will help you from potentially twisting or spraining your wrist if you make an awkward connection with your opponent or a punching bag or sparring dummy.
What To Look For In Hand Wraps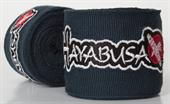 The typical hand wraps are going to come at 180". If you are a smaller fighter, say a flyweight or strawweight, then you could get 120" to fit your smaller sized hands. However, 180" will allow you to double and triple wrap your hands and wrists for added support.
Also keep an eye out for what are called "Mexican style" hand wraps. These types of wraps have elasticity to them, which can be stretched out to make a tighter fit around your fists. Your wrist straps should also have a slit at the end, which allows you to place your thumb in between it.
If you make your way up in the MMA ranks, you may begin opting for gauze bandage hand wraps. These types of wraps are put on professionally with gauze and sports tape. This isn't likely something you'll have available to you when first starting out at a gym. However, as you become more advanced and if you start fighting professionally, you will likely convert to professionally wrapped hand wraps.
MMA Hand Wraps Checklist:
"Mexican Style" wraps are most common.

140"-180" in length.

Don't forget to wrap your wrists and not just your fists.

 
MMA Gloves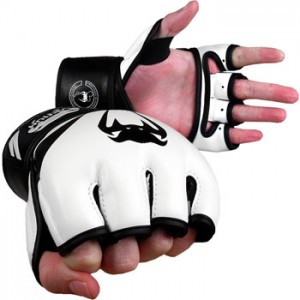 When you turn on your favorite MMA promotion and watch your favorite fighters, you always see them with specialized MMA gloves. However, you may be surprised to know that MMA gloves aren't something you wear on a daily basis.
You are actually better off training with just hand wraps in most occasions, and then with boxing gloves if you are doing boxing training on a specific day. We'll talk more about boxing gloves later. But for now, here is what you should consider and look for with MMA gloves.
Cost Of MMA Gloves
Keep in mind that when you first walk into an MMA gym, you aren't going to be able to put on a pair of gloves and start sparring right away. Instead, it's going to take months before they let you throw your first punch. Therefore, MMA gloves may not be a primary purchase that you make when you first start training.
However, when you do start using gloves, expect to pay between $50 and $75. This is a reasonable price range that will give you a quality pair of gloves, that also will have a style that will be personal to you. Keep in mind that in certain promotions, like the UFC, they have their own official fight gloves and you won't be able to wear your own. Like we said, MMA gloves aren't as important as you might've first thought!
What To Look For in MMA Gloves
The first thing you should look for in a pair of MMA gloves is the weight. Typical gloves will be between 4 and 8 ounces. You may not think that the difference in a few ounces is much, but you'll quickly change your mind when your arms are dead-tired and you're trying to throw a punch in the last minute of the third round.
Heavier MMA gloves are typically used during training to develop a sense of feeling that is more heavy than standardized official fight gloves. Then again, lighter MMA gloves will allow you to work on your speed, while also getting the feeling of having a pair of gloves on.
For training purposes, you can get a pair of gloves that have designs, colors or images on them. But when it comes time to fighting, you might have to wear a specific type of glove. Therefore the design of your practice gloves is up to you and what you prefer.
MMA Gloves Checklist:
Don't put a ton of emphasis into MMA gloves.

Lighter gloves equal speed. Heavier gloves equal endurance.

Don't forget Dog Gloves (insert hyper-link to dog gloves here)
MMA Shin Guards
Whether you paid to watch Anderson Silva and Chris Weidman in their rematch at the end of 2013 or not, it's likely that you saw pictures, videos or GIF's of what happened to Silva's leg after breaking it when a kick was blocked by Weidman's shin.
The point of the story is that there are some seriously heavy and dangerous kicks that can take place in MMA. That's why it is important that you have shin guards during your training.
Why Are MMA Shin Guards Necessary?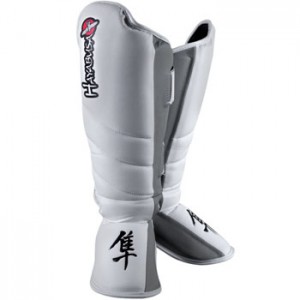 MMA shin guards are going to start below your kneecap and run down past your ankle, in order to cover the top of your foot as well. In doing so, you get a fully covered area that covers the lower part of your body. Depending on the quality, and typically the price that you pay, the shin guards may wrap around towards the back of the calves, or they may only protect the front part of the shin.
Shin guards are necessary to keep the entire area of your leg safe and protected. When you start to train MMA, you'll learn the correct form to kick with your legs. However, that's not to say that mistakes don't happen and that you might accidently come up short on a kick. Even if this happens, with shin guards you are much more protected.
Cost Of MMA Shin Guards
A good quality pair of MMA shin guards are going to run you roughly $30-$50. However, this will probably differ depending on the material and quality, as well as the brand that you decide to purchase.
For example, there are some shin guard options out there that are simply sleeves that you place your foot into and they will cover your shin, the back of your calves and the top of your foot. Alternatively, more Muay Thai designed looks will have opened backs, which don't encapsulate your calves.
You may be thinking that the guards that cover the entire leg are more expensive, but in reality they aren't. Instead, the Muay Thai pads are typically more expensive, mainly because of the brand they are made off of. This is just a simple example and can vary depending on what you are looking at in terms of shin guards.
What To Look For In MMA Shin Guards
Now that you know there are options out there, it is important to consider which will be best for you. And in the end, you might quickly find out that comfort is going to be the most important part of purchasing MMA shin guards. Going back to the fully covered MMA guards we mentioned in the pervious section, some athletes may think that type of equipment is too encapsulating and too heavy or hot. Those people will likely prefer the Muay Thai-type pads, which allow your legs more breathing room.
The biggest thing to look for with shin guards is quality. Chances are, you are going to get what you pay for. And when you start doing tons of kicks with a sparring partner or a dummy, then you'll quickly realize how valuable a good piece of shin guards are. After all, without them, you'll be kicking bare legged, which is never a good idea.
Go put a pair of shin guards on, see what fits best and feels the most comfortable, and consider how they are made. If you find a pair that matches all those requirements, you're likely set.
MMA Shin Guards Checklist:
Decide what feels most comfortable for you.

Protection of the shin and top of feet should be your first priority.

A bad pair of shin guards likely means your kick-game will falter, so make it a valuable decision.

Expect to pay at least $30 for a solid pair of shin guards, but more towards $50 for a higher-quality pair.

 
MMA Mouth Guards
Mouth guards have progressed quite a bit since the sport just started. That is probably true to be said about how mouth guards have changed for plenty of other sports, mainly because of the benefits that wearing a mouth guard can have.
Why Are MMA Mouth Guards Necessary?
To the unknowing athlete, mouth guards may just be thought as a way to keep you from getting your teeth knocked in and ruining your smile. And while this is true, and also probably something your mom will want you to keep in mind, that's not the only benfit of mouth guards.
Quite more possibly than the importance of saving your teeth, there is research that suggests that mouth guards can help with the effects of concussions. Now, if you are going to get knocked out due to a spinning knee or fly back fist, wearing a mouth guard won't make you invincible. However, it can help by absorbing some shock, that would otherwise have long lasting effects on athletes after they finish playing the sports.
Mouth guards can also help against oral lacerations. For example, if you get kicked in the jaw, you may immediately bite down on your tongue. But if you have a mouth guard in place, this can prevent these type of issues from happening.
Cost Of An MMA Mouth Guard
If you head over to your local sports store, you'll quickly be able to find some mouth guards that cost as low as $10. However, some of these mouth guards may not be the best or specific to MMA. Sometimes these mouth guards are more specific to football or hockey, and not necessarily for the continually beating that you'll take as an MMA fighter.
The average cost of an MMA specific mouth guard is going to be around $25. There are more expensive options that are as much as $50, and you can even get custom options that cost more than $100. However, an entry level mouth guard at $25 will do the job for most athletes.
What To Look For In An MMA Mouth Guard
The first thing you'll want to look for is the obvious amount of protection that the mouth guard provides. A good idea may be look at a few different mouth guard options, and consider getting the one that has the most protection to the teeth.
Secondly, you'll want to decide if you prefer a single or double-sided mouth guard. Single-sided mouth guards are more common and they cover the top section of teeth. Double-sided mouth guards will cover both the top and lower part of teeth, while having a breathing hole in the middle that makes it easier for the athlete to breathe.
MMA Mouth Guard Checklist:
Amount of protection should be a priority.

Do you prefer single or double-sided protection?

If you are looking for a custom mouth guard, contact your dentist to find the best options.

 
Groin Protector
Groin protection has also drastically improved, especially for MMA fighters. After all, there is so much movement that goes on during MMA fights that it is imperative that fighters don't have something digging into their legs when they are going around the gym. At the same time, you want to make sure that you have the proper protection, in the case that you accidently get kicked in the pelvic region.
Why Is Groin Protector Necessary In MMA?
Okay, okay, this one might be a bit obvious. If you've ever been kicked in the area, than you can understand how bad it hurts. And if you haven't ever been kicked there, consider yourself lucky and don't add it to your list of things to purposely go out and do. Truth is, getting kicked in the groin is something that can have lasting effects. And the best way to hopefully prevent that, is with a groin protector.
What To Look For In A Groin Protector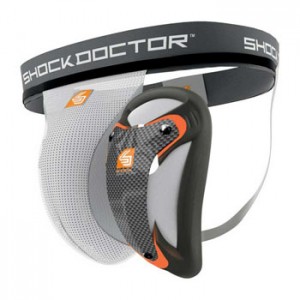 You do have a few different options in terms of what to look for in a groin protector. There is the old option of getting a jock strap with a pocket for your cup. This option isn't typically the favorite option of athletes anymore, simply because they can be a bit more uncomfortable when you starting moving around.
The alternative to a jock strap is compression shorts that offer a pocket for your cup. These are typically the way to go in todays sport of MMA. One reason that athletes prefer these types of groin protectors is because they can wear the compression shorts under their grappling shorts during working out or training, but then throw the cup into the pocket if they begin sparring or working on combative fighting.
You should try out a few different options of groin protection, in order to find out which fit is best for you. You want to be comfortable and you want something that will stay in place when you are moving around a lot. Think about how a cup will react in a variety of different positions, and how stable it will stay. Once you find one that is perfect for you, no matter the style, consider adding it to your gym bag.
Cost Of Groin Protectors
Paying for groin protection is going to be a two-part purchase. First, you'll have to decide on the actual holder that you want. Do you decide that you are looking for a jockstrap style or a compression short style? Jock straps can cost you anywhere from $10-$30, while compression shorts can typically run as high as $50.
Once you've decided on what you want to hold your cup, then it's time to get the cup itself. You can find cups out there that are under $10. But maybe you should consider the fact that if there are cups that go for as much as $30, how much less quality are the ones that go for under $10? And once you realize the answer to that question, ask yourself if you want a cheaper piece of equipment protecting such a vital area on your body. A safe bet is a cup that is around $20.
In total, you'll probably be looking at $50 for your compression shorts and cup combo.
Groin Protector Checklist:
Determine the style that is most comfortable for you.

Make sure that the cup is just as sturdy as whatever is holding it.

Try out a variety of different positions with the cup, in order to make sure that it is right for different MMA fighting styles.

 
Knee Pads
With the amount of sprawling and ground game you are going to be doing, you can bet on the fact that you are going to need a solid pair of knee pads to protect the skin and joints in your knees. If not, knee injuries can be a complete pain that takes forever to recover from.
What To Look For In Kneepads
The irony with a lot of MMA equipment, you don't want to skimp and sometimes getting equipment that is meant for other sports can be a mistake. However, that doesn't always seem to be the case with kneepads. After all, think about how many other sports make durable and high quality pads, due to the beatings that athletes put on their knees. One example that comes to mind is volleyball players. They are consistently diving around in order to hit balls. And though most guys are accustomed to notice the shorts that volleyball players wear, I can assure you that they wear knee pads as well.
With that in mind, you might be in luck find yourself a pair of volleyball kneepads that work great for MMA. Volleyball kneepads have plenty of protection in the patella region, and they also are comfortable and conducive to explosive movements and hitting the ground hard.
If you don't want to get a pair of volleyball kneepads, of course you can instead get a pair of MMA kneepads or wrestling pads. Just keep in mind that you're gong to pay more for those types and, the added cost may not be as valuable in the beginning stages.
Cost Of Kneepads
For volleyball kneepads that will work, you can probably expect to pay $10-$15. For MMA-specific kneepads, you're looking at more like $30. That's why we mentioned that the extra money for MMA kneepads, would maybe be better used for a better groin protector or mouth guard.
Kneepads Checklist
Sturdy protection in front of kneepad. Should protect the patella region.

Comfortable fit in rear or knee where your joints open and close.

The price you decide to spend is up to you. But you can probably get a decent pair, without the price tag.

 

 
Glove Dogs
Over the course of your MMA training, it's likely that your gloves are going to get quite the stench with as much sweat that can store inside of them. Glove dogs work to absorb the swat out of your gloves, while keeping them deodorized. By taking better pair of your gloves, they will likely last longer and smell better over the life of the pair.
What To Look For In Glove Dogs
Personally, one of the top Glove Dog options on the market are the ones by Revgear. These guys are perfect for MMA or boxing gloves. And they also have a handy strap that keeps your gloves connected to one another while drying out. They also come in at roughly $15, which is standard for Glove Dogs.
Because there are limited Glove Dog options, we won't go into much further detail. But we reiterate that you should make sure that you have a pair in your gym bag.
Headgear
MMA headgear is another must-have, especially when sparring. There aren't many gyms that will allow you to spar without having headgear, so you'll want to have your own pair that fits perfectly and your accustomed to. If you use someone else's headgear, not only might it be full of sweat, but it might also not fit right. And while headgear is a costly investment, it is worth the price.
What To Look For In Headgear
Your headgear should have comfortable padding around the entire head. Some key places to keep an eye on are around the cheekbone and chin. Some MMA headgear's are more exposed in that area, so you'll want to find a pair that you feel more comfortable wearing. Furthermore, pay attention to how the headgear fits on your ear. You'll want to make sure that you have equipment that is comfortable , but isn't too tight either. You can guarantee you'll be getting some punches to the ears, so make sure that you have this prepared for.
Cost Of Headgear
Just like anything else in our equipment section, you can skimp as much as you want, but you'll get what you pay for. We wouldn't recommend paying anything less than $50 for proper headgear. After all, a cut on your face or head can be disastrous in terms of your ability to train or prepare for a fight because getting a cut on your face is a huge target for your opponent. And while $50 is a good entry level for a headgear, you may even want to consider paying closer to $100.
The best idea is to go try on headgear and see what feels go, but keep the price between $50-$100.
Headgear Checklist:
Size is likely to be the biggest factor for headgear. Be sure that it fits comfortable and that you have plenty of room for peripheral vision.

Added support around your cheeks and jaw will likely come in handy.