In our last post we looked at  the Best Boxing Shoes within budget. Today we detail the rules that fighter must live by to have a career in MMA. Whether you plan on throwing on a pair of gloves and stepping in the cage or if you just want to be the biggest fan out there, it's important that you understand the rules of MMA. Of course, we're hoping that it's the former and that's what has brought you to this site.
MMA rules have changed a lot over the last decade. In fact, many will say that the change in rules is what has allowed the sport to enter the mainstream and become one of the most popular sports in the world. But even though some of the moves that were once legal are no longer so, that doesn't mean that this sport doesn't offer tons of action and combat that you'll have to be ready for.
To better prepare you, here is a look at some MMA rules so you can understand the regulations of the warriors that take part in this sport.
Weight Classes
To begin with, one of the most important rules of the sport revolves around weight classes and classifications for fighters. We'll go into weight classes a bit more in another post, but this rule is vital because it's what prohibits smaller fighters from getting in the cage with a massive fighter who outweighs them by one hundred pounds or more.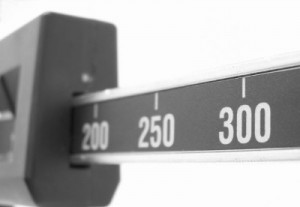 Keep in mind that different MMA organizations have different classifications for fighters. However, most commonly the weight classes are:
Flyweight
Bantamweight
Featherweight
Lightweight
Welterweight
Middleweight
Light heavyweight
Heavyweight.
These classes are for both men and women, though they do differ for each gender in terms of actual weight.  If you are interested in the specifics for weight classes, be sure to check out our other post that goes into more detail.
Time Limits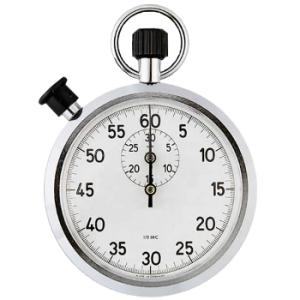 In MMA, there are typically two main types of fight; those being undercard fights and main event or championship fights.
Undercard fights typically consist of 3 rounds that are 5 minutes each. In between each round is a 60 minute break, where fighters will retreat to their corner to get advice from their coaching staff and drink water.
In main event fights the time constraints change a bit. These type of fights are typically 5 rounds that are 5 minutes each. Keep in mind that not all main event fights are going to be for a championship belt, but most of them still fall under these time regulations.
Illegal Moves
It's much easier to first look at MMA moves that are illegal, as these are things that you certainly want to avoid when you step into the cage. A fighter that performs any of these moves runs the risk of having a point deducted, or losing the fight by disqualification.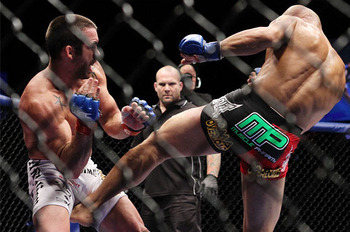 Also, many of these moves were previously allowed in older MMA fights, but they have now become universally illegal.
Illegal moves include:
Strikes or attacks to the groin.
Knees to the head of an opponent who is on the ground.
Fish hooking an opponents mouth.
Strikes to the spine or the back of the head. This also includes elbow strikes in a 12-to-6 downward motion to the top of the head.
Biting any part of the opponent.
Head butting at any time.
Pulling of the hair.
Gouging of the eyes.
Grabbing of the throat.
Grabbing of the cage or ring.
In addition, fighters may not deliberately try and stall time or show inactivity while in the cage.
As mentioned, many of these rules were once allowed in the sport of MMA. However, they are now heavily enforced and a fighter can loose their match if they perform any of them.
Legal Moves
Outside of those that are illegal, there are plenty of moves that are allowed. Fighters are allowed to strike one another with their elbows, fists, forearms, knees, shins or feet. They are also allowed to perform legal throws and grabs with the intention of submitting their opponent.
Ways To End An MMA Fight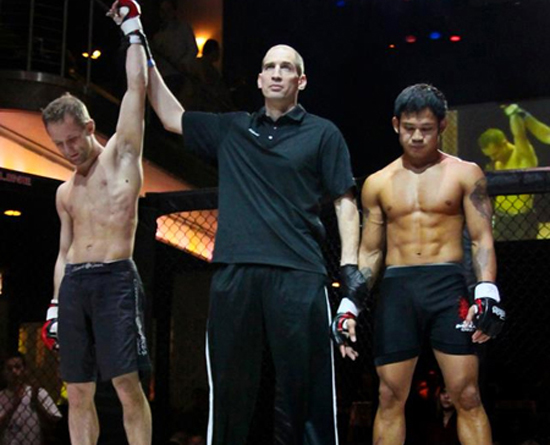 As mentioned earlier, there are time limits that decide how long an MMA fight will last. In the event that the fight goes "the distance," then it is up to the judges to decide who the winner is. Fighters are judged based off of: effective striking, effective grappling, overall aggressiveness, control of the fight, and defense.
Another way for a fighter to win their match is to force the other opponent into submission. This occurs after a grapple or submission hold and the other fighter taps out.
In the event that a fighter is knocked out, this too can result in the end of the fight. While a knockout is considered a "KO," a TKO comes when the referee believes that one fighter is unable to continue on in the fight. In the event that this happens, the other fighter is awarded the victory.
Finally, fights can also end in forfeits and no contest decisions. In the event that a fighter doesn't make weight or they are injured before the fight, this may result in a forfeit. And if both fighters break the rules and the referee stops the fight, the match will end in a no contest.
Now that you have an idea of the rules of the sport, check out some of the other posts regarding other areas of MMA.
Thanks for visiting the MMA Nest, if you are a beginner remember to check out our Beginner Gear Guide.