In out last post we spent some time Learning the Techniques that are the building blocks of MMA  Today we put Onnit in the spotlight and review one of the best looking kettlebells on the market, the Legend Kettlebells.
Every time we get ahold of ONNIT gear, we are continually impressed with just how great this equipment is. We had the opportunity to check out the ONNIT Primal Kettlebells during a previous workout, at which point we were informed about the Legend series that they offer as well. After falling in love with the ONNIT series, we had high hopes for the Legends.
We were not disappointed.
The ONNIT Legend Kettlebells are another option to fill your MMA gym with. If you are looking for something that you can easily snatch, toss and lift, you are going to love the Legend Kettlebells. With a solid grip and made from a durable material, not to mention the mold designs you can choose from at each weight class, there is plenty to love about this kettlebell set.
Here's a look at our ONNIT Legend Kettlebells review during our workout with these next gen pieces of equipment.
Product Features & Overview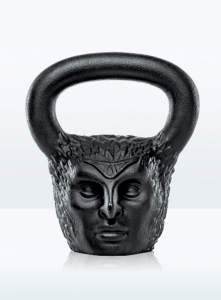 One thing that we genuinely hate about the fitness industry is the amount of gimmicks that are out there. When we're talking about people's lives and their ability to reach the physical goals that they have for themselves, we hate seeing products that don't do half of what they claim they will. What's great about the ONNIT Legend Kettlebells is that even though you're looking at something that has a original and unique design, by no means is it a gimmick.
Instead, with the ONNIT Legend Kettlebells, you are going to get a very distinct new piece of equipment to add to your MMA gym in the form of a kettlebell with an uncommon design. Each tier of weight for the Legend Bells come with their own original design.
This includes:
Harpy: 12 KG (26.46 lbs)
Cyclops: 20 KG (44.09 lbs)
Werewolf: 28 KG (61.73 lbs)
Harpy

The intro level "Harpy" is going to be ideal for those that are first getting involved in bell training. This 12 KG bell is perfect for snatches and other bell movements while training. In addition, the beautiful design of the legendary Harpy will be perfect for those looking to fill their gyms with aesthetically pleasing equipment.
ONNIT is known for making unique looking equipment, which is seen through the entire Legend lineup.
Cyclops

For those looking for something a bit more intense, step it up to the Cyclops. There's no mistaking this one-eyed beast, and at 20 KG you had better be giving it your all when going up with this weight. This is by far one of our favorite weights, and it makes us even have a new appreciation for classic American literature.
Werewolf

Last up on the list is the granddaddy of them all, the whopping 28 KG Werewolf model. Unlike anything else in its class, this bell is for the pros who know what they are doing with something that weighs nearly 62 pounds.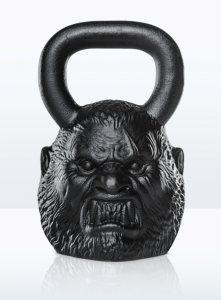 We had already gone through a grueling workout with the Harpy and Cyclops, but we refused to give up the opportunity to at least toss the Werewolf around too. There is just something about the Werewolf mode that will turn you into a straight beast, making you want to finish out your workout harder than ever before.
No matter what model you go with in the Legend line, you are going to get something that will become a staple in your gym. Not only are they made from durable cast material that will last, but this same material makes it easy for you to grip the handle of each. We usually end up full of blisters and bruises when going hard with kettlebells, but that wasn't the case with the Legend.
Pros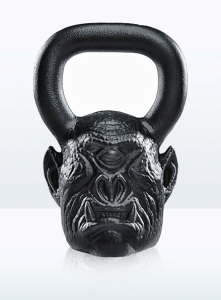 With so much to boast about, here's a quick recap of everything that we love about the new ONNIT Legend Kettlebells:
ONNIT continues to impress with unique bell designs that will be a highlight in your gym.
The handles are incredibly sturdy, but not overly rough to cause blisters or bruising while training.
With 12, 20, & 28 KG options, there is something for everyone to choose from.
An investment that will last in your MMA gym for years to come.
Cons
As with the ONNIT Primal Kettlebells, you are paying for an investment into your gym, which doesn't come at a cheap price.
With three beautiful options to choose from, we hope for even more models in the future.
Our Rating  out of 5 Stars
Who Is The ONNIT Legend Kettlebells Best For?
In order to get a perfect score in our book, you have to hit on all points when it comes to training. The ONNIT Legend Kettlebells certainly do just that. They are each a beautiful piece of equipment that will be one of the best parts of your MMA gym. Your friends will continually ask you about your workouts, and you'll be able to report back with great results about how awesome your training sessions are when going at it with Legend bells.
The reason that we don't give the Legend bells a perfect score is because we had first done just that with the Primal line. When you start to think about all the money that you'd be paying for these kettlebells, it doesn't make a lot of sense if you already invested in ONNIT Primal. But if you haven't, then we highly recommend looking at both of the two, and then adding whichever is best for your MMA training. You can rest assured that you are sure to find something you love, as ONNIT is a beast when it comes to kettles.
Our Verdict
Kettlebells are an important part of any gym. If you're looking to add to yours, ONNIT certainly makes two of the best options on the market. So if the Primal line isn't ideal for you, knock it out of the park with the ONNIT Legend Kettlebells.
Where Can you find these Bells?
Thanks for visiting the www.mmanest.com, if you are a beginner remember to check out our Beginner Gear Guide.