In our last post we looked at the MMA Elevation Training Mask 2.0  A very useful tool to up your training game. Today we look at the our top choices for Training Mitts.
It doesn't matter if you are a flyweight competing in your first bout or a heavyweight that has been fighting for years; quick and heavy hands are an important part of any fighter's arsenal of moves. And while you can spend hours on a punching bag working to improve strength, it is focus mitts that will help you improve your accuracy and timing while in the cage.
With the help of focus mitts, MMA fighters can train with their coaches to work on combinations, hand speed, strength and more. As you can probably imagine, you want to be sure to find a solid pair of focus mitts, especially if you are going to be dishing out right hooks and left jabs at them every day. Here is a look at our favorite three focus mitts and why they are valuable options to include with your MMA training.
Hayabusa Pro Training Micro Mitts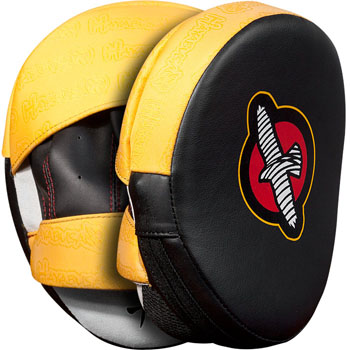 Fighters who want to go all in and get themselves some of the best mitts on the market can opt for the Hayabusa Pro Training Micro Mitts. These mitts will run you about $20 more (at $119), than the Venum Competition Focus Mitts, but that price comes with plenty of added benefits.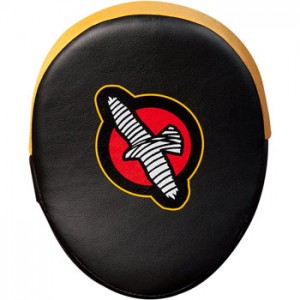 One of the best features of the Hayabusa Pro Training Micro Mitts, as the name implies, is how light they are. Hayabusa put extra effort into creating these with a compact and lightweight design, which maximizes control and provides for optimal maneuverability.
Whether you are a coach that needs a pair of gloves for your team or a fighter looking to quickly improve your hand speed, these gloves are the way to get it done.
Another added feature with these gloves is the Air Dome core, which is Hayabusa's exclusive design. These core provides for unmatched absorption on impact, which is safer for both fighters and coaches alike.
The Hayabusa Pro Training Micro Mitts also look great, especially if you already have a bunch of Hayabusa gear in your gym.
The front padding is mainly black with the Hayabusa logo on the front, with yellow padding along the top and side of the pads. Once you stick your hands inside of the mitts, you'll also be pleased with the anti-slip protection that will keep them on your hands.
Venum Competition Focus Mitts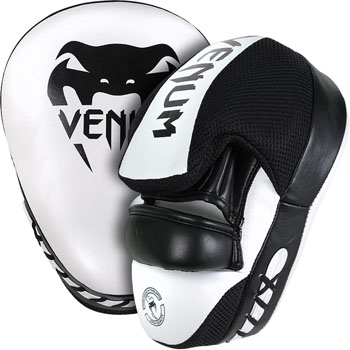 If you have already outfitted the rest of your MMA equipment with Venum gear, then you will love the Venum Competition Focus Mitts. What really stands out about these mitts is how clean they look and their overall aesthetic appeal.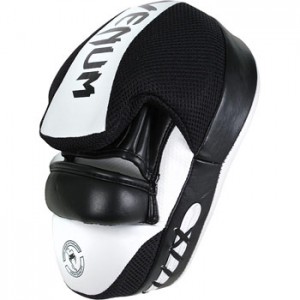 The front has a white padding, with the Venum logo right in dead center. This will give you a great target to shoot for when you are loading up on 1-2 combos. On the back of the mitt is a black mesh material that will keep your trainers hands cool while they are holding them up for you, with VENUM written down the side.
In terms of comfort, it's going to be harder to find a pair of gloves that match up like these do. There is added layers of padding on both the front and the back of the mitt, which makes for easier training for you and your coach.
We also really like the fact that there is added wrist protection, which will keep you safer while training.
The Venum Competition Focus Mitts go for about $100, which is pretty typical for Venum gear. It's not quite as expensive as some other models, but it's a worthy investment if you are looking for a pair of mitts that are a bit higher in quality than some of the other options out there.
Revgear Curved Contour Focus Mitts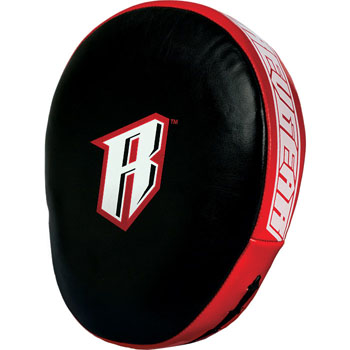 The first set of mitts that are worth taking a look at are the Revgear Curved Contour Focus Mitts. When it comes to comfort, you won't get much better than having these on your hands. But just because they are comfortable doesn't mean that you'll be losing any durability. Instead, these gloves can be put through the ringer while you are setting up heavy combos and hits.
On the back of the Revgear mitts are slots to put your fingers in, which makes for a comfortable and stable fit. Furthermore, there is an additional strap that goes in place across the wrist. On the front of these mitts is a large padded area that will protect the hand of both the fighter and the trainer.
One thing that people may not like about these mitts is that they aren't necessarily as flashy as some of the other options on this list. That being said, most fighters won't care about the way the equipment looks as long as they hold of for intense training sessions.
What may be the best factor for the Revgear Curved Contour Focus Mitts is that they are just $70, making them an excellent budget option for those looking to outfit their gym and still save money. You can't get much better in terms of saving money and still getting a credit set of mitts than with these from Revgear.
There is no escaping the need for training mitts if you are an MMA fighter. But with so many options out there to choose from, consider these three as the top options for any price range, while also providing plenty of added benefits in the way of comfort and precision.
Thanks for visiting the MMA Nest, if you are a beginner remember to check out our Beginner Gear Guide.