If you are very much into mixed martial arts, then you may have seen or even taken part in no holds barred (NHB) or vale tudo matches. "Vale Tudo" means "anything goes" in Portuguese, and certainly reflects the lack of rules that are utilized in this type of combat event.
Shopping locally for shorts, you may only find one or two brands available that suit your needs, but there is actually a wide variety of different colors, styles, and brands available when you shop online.
You can find these top quality Value Tudo Shorts with more details here!! 
What Should You Look For In Vale Tudo Shorts?
The most important thing to consider with any kind of mixed martial arts gear is going to be comfort along with safety. The last thing you need to worry about is the waistband of your shorts rolling over or the material not feeling secure during fighting. Most high quality shorts are made from material that is "wicking", which means that it is able to draw moisture away from your skin and keep you cool and dry while working out.
Another factor may have to do with hygiene, since these shorts are worn next to the skin. It is important to purchase shorts that are made from antimicrobial material that will help prevent odor and potential infections. This kind of material washes up quickly and will enable you to always look and feel your best.
Hayabusa Haburi Compression Shorts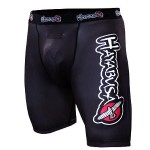 The Hayabusa Haburi Compression Shorts are amazingly durable and protective in spite of the fact that they are highly decorative and make a serious statement. They are available in small, medium, large, and extra-large, and in black, blue, and red.
These shorts combined the latest and compression design with skin protection technology while also helping to with moisture away from the skin. With an integrated cup pocket and antimicrobial fibers, these shorts really are designed to help protect the health of the wearer.
Tatami Honey Badger Vale Shorts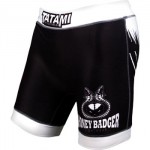 One of the most popular vale shorts on the market today is the Tatami Honey Badger , which incorporates the legendary honey badger design. These shorts are available in sizes 32 to 38, and are made from durable, antimicrobial double-blind materials.
Not only are there dual cobras and a badger on the right leg, but there is a large honey badgers eyes on the back of the shorts, making them immediately noticeable to competitors.
Venum Electron 2.0 Tudo Shorts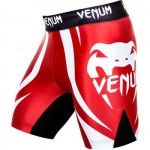 There are some shorts that are certainly designed to make a statement, and Venum Electron 2.0 Shorts certainly fall into that category. These shorts are available in red, black, and blue, and in sizes 33, 34, 36, and 38. They are made from 100% spandex and have a thick elastic waistband for the ultimate in comfort.
One unique benefit of these shorts is that there is a "Constrictor Inner Grip" that will help to prevent shifting during workouts while also allowing for the maximum flexibility and freedom of movement. They are double stitched in order for them to last as long as possible, yet still very affordable compared to other high-end tudo shorts.
Scramble Hannya Shorts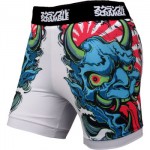 This is a very unique pair of tudo shorts that has a design unlike any other brand. They are available in white, sizes large and extra-large. With colorful designs down both legs and an extra large waistband with drawstring, they are designed to make a statement will also help you to be comfortable at all times.
The material is double layered to enhance durability and to help encourage wicking of moisture away from the skin. There are large Hannya-inspired graphics on both legs and a large "Vale Tudo" on the rear, leaving no doubt as to what kind of fighter the wearer of these shorts is.
Jaco Vale Fight Shorts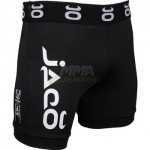 Not every tudo fighter wants short, colorful shorts to wear while training or in the ring, and the Jaco Fight Shorts are ideal for those individuals. These shorts are a little longer than most vale shorts and much less colorful.
They are available only in black, with a thick gray stripe and logo on the leg. They also sport a thick waistband to help keep the shorts in place, and are made from a unique, ultra durable STR-X fabric that is able to stretch in every direction while also waking away perspiration.
What Are The Best Vale Tudo Shorts For You?
Most fighters who are involved either in training for vale tudo or actually getting in the ring will have several different pairs of the shorts for different purposes. It is important to have a high quality, durable pair of shorts that you can depend on for training, but you may want something a little more exciting for the ring. In either case, you will find the largest variety of high-quality shorts online.
Thanks for visiting the MMA Nest, if you are a beginner remember to check out our MMA Beginner Gear Guide and use social buttons on the left to give us the thumbs up.