There is no denying that having a good striking game in MMA is going to help you handle your opponents. After all, it doesn't matter how much grappling or ground game they have, if you can land a blow that knocks them out cold and puts them on the mat.
And while you can't wear shoes during your MMA bouts, you can certainly have some great boxing shoes that will help you train better. Here is a look at the top five boxing shoes on the market and what makes them so great.
Title Hi-Top Boxing Boots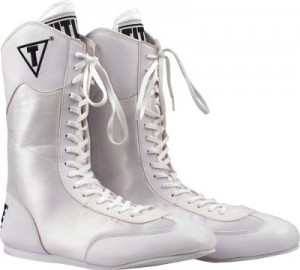 The Title Hi-Top Boxing Boots are a perfect fit for those looking for a stable and comfortable pair of boxing shoes. These boots offer 12" in height, which will help you improve your speed and still keep your ankles completely stable.
Furthermore, they are built with a nylon fill and polyurethane sole. That means that even after hours of standup practice, your boots will still feel comfortable and offer a relaxing fit. That is incredibly appreciated, especially in a sweaty and hot gym.
The overall look of the Title Hi-Top Boxing boots are also much appreciated. They come in a variety of different colors and they offer some nice logos along the heel of the shoe and inside of the tongue.
Granted the only person who will see these shoes is your training partner, considering you can't wear them in the octagon, but having a great pair of training boots will allow for you to get in the mood when working on your standup game.
Overall, Title makes a great option for boxing shoes if you are looking for a hi-top boot that is reasonably priced.
---
Absolute Nike Mid Machomai Boxing Shoes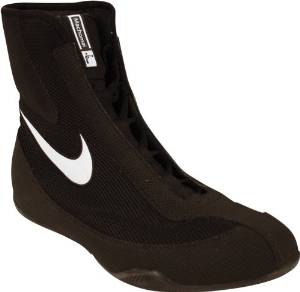 If you are looking for something that doesn't go up as high on the calf and shin, consider the Absolute Nike Mid Machomai Boxing Shoes. Made by Nike, you can rest assured that these bad boys are built to fit and feel great when you are bouncing around the ring and working on your jabs and uppercuts.
These shoes are incredibly light, weighing just 266 grams, which is often less than the gloves that you'll have on your hands. If you can imagine how quick your fists are, just think about how much faster your feet will be with such minimal weight holding them down.
Another benefit of these shoes is just how great they do on the mat. The underneath part of the shoe offers such great stability, that you get fantastic grip and an awesome pivot, for every single time that you reach in to throw a punch. Being able to improve your standup game is equally about not worrying about slipping all over the place, which you won't have to worry about with these shoes.
You can't go wrong with Nike athletic gear. So if you want a pair of shoes that you know you can rely on, these are them.
---
ADIDAS Box Hog 2 Adult Boxing Boot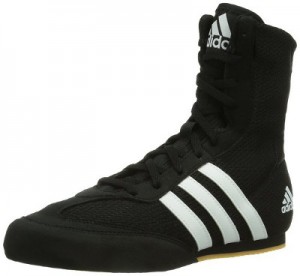 Classic and comfortable is the name of the game for the ADIDAS Box Hog 2 Adult Boxing Boot. With these boots, you get a fantastic mid-range option in terms of height, which is great for those that want more stability than a low-cut shoe, but don't enjoy the added weight of hi-tops.
Equally as rewarding with this shoe is that the laces fit perfectly to the rest of your foot, which makes for a snug fit that will keep your shoes in place while bouncing around the gym.
If you are a fan of ADIDAS, then you are going to love these boots. They are your typical ADIDAS style, with the three stripes down the side. You also get the ADIDAS logo in the back and on the tongue. Overall, this a beautiful boot that fits equally as well.
---
Ringside Power Boxing Shoes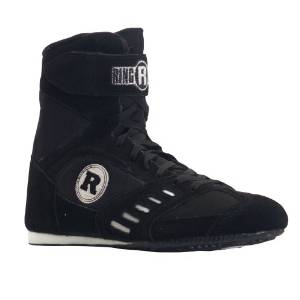 If you haven't heard of Ringside, don't let the brand unfamiliarity fool you. This is a legit mid-sized boxing shoe that offers plenty of bang for the buck. There is a comfortable grooved rubber sole that makes for added comfort and grip on the ring, which is helpful when sparing with your training partners. Furthermore, the reinforced toe tip is perfect for pivoting in multiple different directions.
An added benefit for the Ringside Power Boxing Shoes is the breathable mesh and sued material, which keeps your foot aired out and less sweaty. Not only will your shoes smell less when you take them off, but you'll have added support when they are on as well.
Here are just a few of the favourite boxing shoes on the market. Any of these can be added to your training kit to enhance your performance.
Thanks for visiting the MMA Nest, if you are a beginner remember to check out our Beginner Gear Guide.