We've already shown you why Venum offers a great line of MMA equipment in the form of shin guards and sparring gear, but their Electron 2.0 shorts are another part of their line that you shouldn't skip over.
Not only are these shorts incredibly comfortable, but they also look great and offer fighters a great option in terms of shorts for a day practicing at the gym, or even when stepping in to a sanctioned fight. Here is a further look into what we like so much about the Venum Electron 2.0 fight shorts.
Click here to find this Venum MMA Shorts with additional Reviews and Discounts!!
Look And Style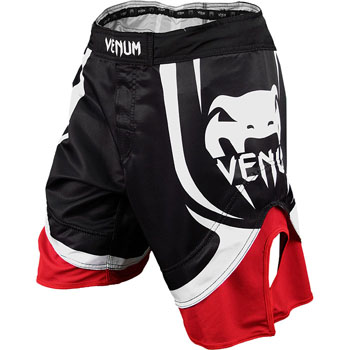 First things first, these shorts look super sick. They come in two different options for fighters, which ironically look as if they are representing whether or not a fighter is playing the role of the good guy or the villain.
The red, white and blue Electron 2.0 fight shorts almost have a heroic feel to them, especially with the familiar white a white viper on the side, which are found on almost all Venum products.
If the red, white and blue isn't your thing, the Electron's also come in black and red. There is nothing wrong with the darker option, but rather they give fighters another choice to choose from. And the fact that you can go bright or dark, gives great options that are highlighted by how awesome these shorts look.
In terms of the rest of the look, the Electron 2.0's feel as if they offer just enough physical appeal, without being overbearing or too flashy. There is plenty of room on the backside and thighs, so you don't feel cluttered with graphics.
But because it's Venum, you get, as mentioned, the viper on both sides and the "VENUM" spelling on the back. Some shorts certainly can try and fit too much into a tiny space, but in the case of the Electron 2.0's, less is certainly more.
Durability and Fit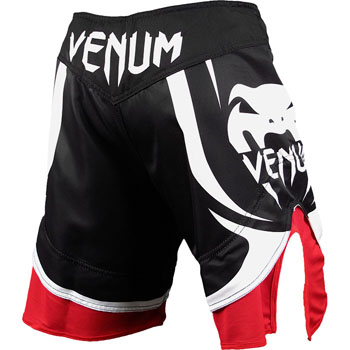 The Venum Electron 2.0 fight shorts are made of an innovative polyester and microfiber mesh. If all of these scientific terms don't mean much to you, that's fair. However, what you should know is that the combination of these fabrics make for an incredibly light and comfortable feeling when you are working out.
It doesn't matter if you are wrestling around on the ground, standing up in a clinch, or running 20-miles outside, these shorts are going to be comfortable throughout your workout. The polyester also makes it so that they wick away sweat, which is the sign of a truly well-made pair of MMA shorts.
Along the thigh of these shorts is a cut that provides even added breathability and range. Because of this cut, your leg has 180-degrees of flexibility, which will be greatly appreciated when it comes to kicking your opponent or rolling around on the ground.
Lastly, these shorts do a great job of keeping your body cool, even when you've been working out for hours on end. Because of the polyester and microfiber material, as well as the thigh cut, there isn't much to insulate you. Instead, you can keep your body temperature cool and stay comfortable during your practice, sparring or even fights.
Price
At $68, the Venum Electron 2.0 fight shorts are about what you'd expect to pay for a pair of quality shorts. Sure, there are less expensive and more pricey options out there, but this is a decent mid-range price for an overly impressive short. However, if you are still considering other shorts options from Venum, you may want to take a look at:
Other Top Venum Picks:
| | | |
| --- | --- | --- |
| Venum Amazonia 3.0 Fight Shorts | Venum Carioca 2.0 Corra Fight Shorts | Venum Light 2.0 Fight Shorts |
| Lyoto Machida "Torii Legacy" Venum Fight Shorts | Venum Wanderlei Silva "Wand Shadow" Fight Shorts | Venum Wand Fight Team Inferno Vale Tudo Shorts |
All of these shorts vary at their own price points. But for just under $70, the Electron 2.0's are a great option to consider.
Pros
Insanely beautiful looking shorts. If the colors work for you, then you will surely love the overall appearance of the Electron 2.0 fight shorts.

Extremely comfortable and light weight

Polyester and microfiber material that is flexible and comfortable.

Added flexibility through the thigh cut.

 
Cons
It seems as if all Venum shorts fit a bit differently. That means if you get a small in one size, it may fit more like a medium in another. It would be nice if all Venum shorts were straight across the board. The one thing to consider is that the Electron 2.0's are the same, no matter the color you get them in. So if you already have a black and red, you can go for the red, white and blue in the same color.
Rating  out of 5 stars
Conclusion
What do you need in a good MMA fight short? Comfort? Check. Sweat resistance? Check. Awesome design and cool colors? Check. The Venum Electron 2.0 fight shorts offer everything you could want and much more. And for a reasonable price of under $70, they are perfect for your full-time shorts, or just an extra pair to have ready to wear.
Thanks for visiting the MMA Nest, if you are a beginner remember to check out our Beginner Gear Guide.