In our last article we discuss some of the best options to get the kids suited up. Now we discuss an economical way to get all your gear in one shot. When it comes to sparring for MMA, you need to make sure you are protected with a quality set of gear. After all, if you get hurt or injure yourself before a big fight, you might as well get into the cage with a giant bull's-eye pointing out your injury. This is were a quality MMA gear Bundles comes in.
Then again, you want to be able to practice at a pace that will help you further your fighting skills. While it can be tricky to juggle both safety and full contact during practice, having a good quality set of sparring gear will certainly help keep you protected.
There are a lot of options on the market, so we'll take a look at six that we really like and would be a good addition to your MMA training arsenal.
Hayabusa Ikusa Sparring MMA Gear Bundle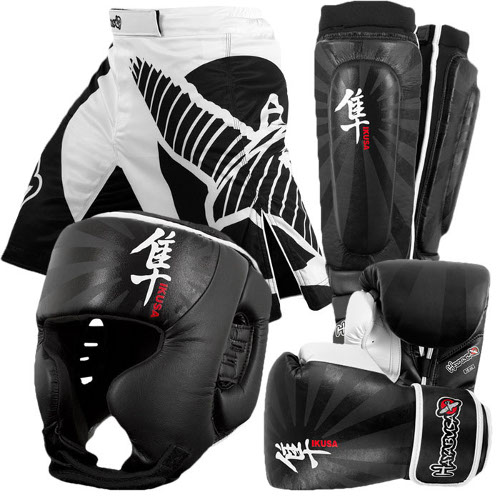 Hayabusa is a leader in the MMA industry with the equipment and apparel that they specialize in. That is why it should come as no surprise that their Hayabusa Ikusa Sparring Bundle is one of the top options for practice equipment. With this package, you will get a set that is extremely comfortable and durable, and it also looks great too.
What's Included?
When you buy the Hayabusa Ikusa Sparring Bundle, you get all that you need to get some serious sparring going on. Included in the bundle are five pieces, including fight shorts, 16oz gloves, headgear and shin guards.
Hayabusa Shorts
The great part about the Hayabusa Chikara fight shorts that are included with this bundle is the dual purpose that they provide. If you are looking to get serious into MMA, then you can't go for very long without a quality pair of fight shorts. These shorts are perfect for wicking sweat away, and they are also wicked comfortable all around.
They offer a slit up the side of the shorts, so that you will still get plenty range of motion with your kicks and when you are grappling. The Chikara shorts also come in a variety of shorts including black, blue, orange and red. Overall, these are top notch fighting shorts and it's great they come included in this bundle.
Hayabusa Gloves
The 16oz gloves are also an added bonus for this bundle. Because of their weight, you can practice with gloves that will resemble the actual weight of gloves that you'd strap on once in the cage. And the Hayabusa logo on the knuckles is an added bonus for this set.
Hayabusa Headgear
One of our favorite parts about the bundle is the Hayabusa Ikusa Headgear. This headpiece is a great fit on your head and it also adds plenty of safety to the top of the head and around the cheekbones and chin areas. There is also added ear support, so you don't have to worry about taking any shots from your sparring partner to that area.
Hayabusa Shin Guards
On top of all of this, you also get the Hayabusa Ikusa Shin Instep Guards. These shin guards are extremely comfortable and easy to put on. If you've never had step in shin guards before, you'll quickly come to appreciate the comfort that they provide without having them get loose while you are training.
Overall, we love the Hayabusa Ikusa set. It's going to run a few hundred bucks, but it's worth the investment considering you'd need all of this equipment anyways.
Venum Absolute Standup MMA Gear Bundles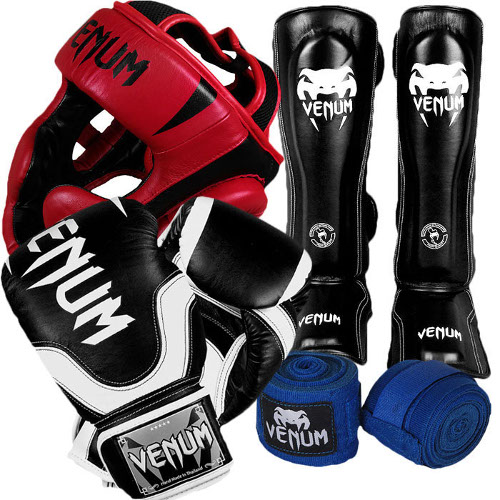 Venum athletics offers a variety of different MMA sparring bundles with varying included accessories. The one that we really like is the Absolute Standup Bundle. If you are a big fan of Venum and want to stick to their gear, but maybe don't like the Absolute bundle, they also offer their Carbon and Challenger standup bundles as well. However, we highly recommend the Absolute.
What's Included?
The Venum set differentiates from the Hayabusa Ikusa set in a few different ways. Instead of 16oz gloves, like those offered by Hayabusa, Venum offers boxing gloves. And rather than fight shorts, Venum provides fighters with boxing handwraps. This set also comes with headgear and shin guards.
Venum Gloves
If you already have a set of 16oz gloves, or if you simply are looking to perfect your boxing game a bit more, then the Venum set is a great way to go. These gloves are extremely durable and look great as well. Along with either a two-toned black and white or red and back color set, the Venum logo that runs across the knuckles is super sharp.
Wearing boxing gloves will train your hands to be just a bit faster when you make the switch to MMA gloves, hence why this is an option that many fighters will choose to go with. And because Venum offers boxing gloves instead of 16oz gloves, they also put in their own handwraps. This is helpful, especially considering you will need handwraps to go with the gloves, and this set makes it to where you won't have to buy two individual things.
Venum Headgear
The Venum Absolute 2.0 Headgear is also a solid addition to this set. Unlike other sets, the Absolute 2.0 has a stationary chinstrap that doesn't move. This makes it much more of a solid fit and keeps the headgear better formed to your head. Along with that difference, the Venum absolute 2.0 also has ear protectors that pop out from the headset itself, unlike other models where the protection for the ear is either flush or sunken in. This will likely come down to preference and whatever you feel is more comfortable when trying to pick out a bundle that's best for you.
Also, keep in mind that the shin guards from Venum aren't step ins. Instead, they have two straps that go around the ankle and calve. The strap is sturdy and comfortable, if you are looking for a shin guard that offers plenty of breathing room.
Revgear Standup MMA Gear Bundles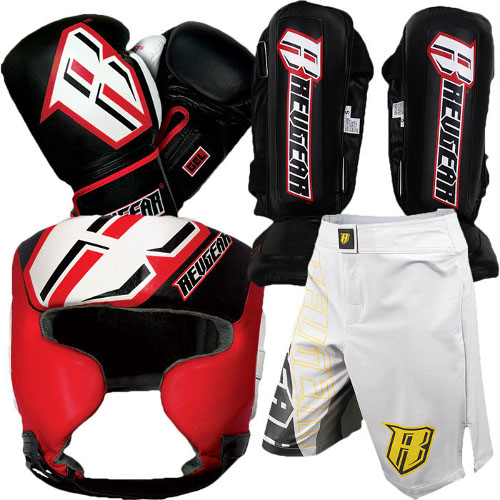 We like the Revgear Stand Up Bundle because it offers the same options as Hayabusa – including shorts, shin guards and gloves – but the training headgear is a bit different of an option than the previously mentioned sets. This Revgear bundle is also at a price point that is lower than the two bundles mentioned before it.
What's Included?
Revgear Headgear
As mentioned above, this bundle comes with boxing gloves, shin guards, headgear and fight shorts. The biggest difference that you'll notice right off the bat is the headgear and how it compares to other options. This headgear specifically looks more similar to a boxing style piece of equipment.
There is a chin strap that comes detached, unlike the stationary pieces in the above options. In terms of protection, you may notice a bit less with this gear, but that may come with the fact that you'll be a bit more comfortable with the Revgear set. After all, you'll certainly have more breathing room and flexibility with this model. However, it's going to come down to preference as to what you like and what feels best on your head.
Revgear Shin Guards 
The Revgear shin guards are also something to consider, as they are a gel-style type of shin guard. Unlike other options, some of which are made of foam, the gel shin guards are easier on the legs and also on the sparring partner. Furthermore, these shin guards have serious Velcro straps on the back, which make for great stability during your training. They aren't step-in style, but we didn't notice much of a difference with the amount of firmness that was provided with the double straps on the back of these guards.
Combat Sports Sparring MMA Gear Bundles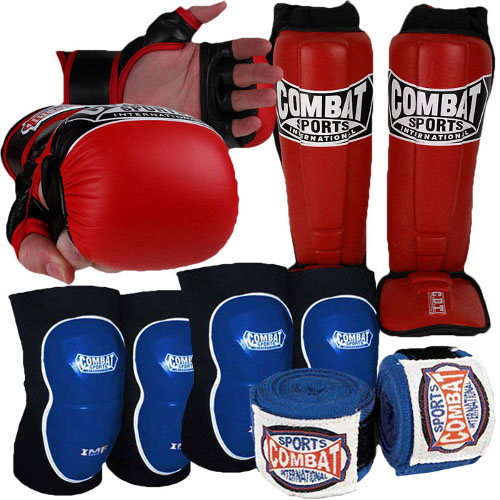 As much as we loved the Hayabusa and Venum options for sparring bundles, sometimes those may be a bit much for what fighters are looking for. Especially if those fighters are on a budget or simply looking to try out the sport before they invest a load of money into it. A great alternative option with a lighter price tag is the Combat Sports MMA Sparring Bundle. You'll certainly get plenty of bang for your buck with this option, as it offers a variety of different equipment options to get you started sparring.
What's Included?
This is another set that doesn't come with headgear. However, it offers plenty of other pieces of equipment to make up for it. Included in the bundle are sets of gloves, shin guards, elbow pads, knee pads and handwraps. So when you are looking for a great bundle, you may want to ask yourself if you need protection for your head or for your limbs, which will probably depend on the type of sparring you are doing or what other equipment you may already have available.
Combat Sports Gloves
The training gloves offered by Combat Sports come with an open-hand style, unlike many of the other closed glove options on this list. This is great to get plenty of padding around the knuckles, however you will still have the opportunity to grapple since your fingers are open.
Kneepads
We also really like the fact that there are kneepads and elbow pads in this set. These are two items that often go overlooked by MMA bundles, but not in this case. Is it possible that you'll buy this bundle solely because it has kneepads and elbow pads? Maybe or may not. However, if you already have headgear and don't need that certain piece, then this is a viable option at a great price tag.
Shin Guards
The shin guards offered by Combat Sports are step in style, but it's really nice because they are made of a mesh material. This makes for better breathing and airflow for your legs, with the same comfort and security that step in shin guards offer.
Don't be confused because we are referring to this bundle as a budget option. The equipment provided are still made of solid material and will be a great addition to any gym bag. Furthermore, for those that don't desire or want the big name brands that come with big name price tags, you can't go wrong with Combat Sports.
Ringside Boxing Sparring MMA Gear Bundles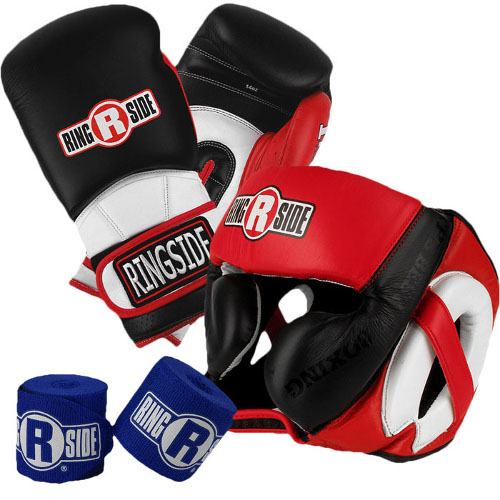 If you like the price point of the Combat Sports bundle mentioned above, but still have your heart on getting a set that includes headgear, the Ringside Boxing Sparring Bundle is likely to be the best option. This particular set includes boxing style training gloves and Mexican handwrap, as well as a helmet. Considering the price tag for this set, the helmet alone is worth what you are paying. The fact that you also are getting training gloves and wrap, well that's just icing on the cake.
What's Included
As mentioned above, this set is a bit more simple than some of the options mentioned above. You won't get any shin guards, but you will get headgear, gloves and handwrap. Fighters who may not be at a level where they are working n their kicking attributes may benefit greatly from this set, especially if you aren't needing or looking to protect your shins in any serious way.
Head gears
Unlike the Venum or Hayabusa headgear mentioned earlier, the Ringside option offers a chinstrap. This along makes for headgear that looks much more similar to those found in boxing, though it is just as viable an option for MMA as well.
Gloves
Fighters will also be happy to see that the gloves that come with this set come in either 14 or 18oz. This makes it easier for fighters of different weight classes to choose a pair of gloves that work best for them and their hand speed.
As we've worked our way through the reviews of these sparring sets, you can obviously see that we've gone through more expensive options to more budget choices. The Ringside Boxing Sparring Bundle gives you the headgear and gloves like those offered with the Hayabusa or Venum set, but with a much friendlier price tag. Some would argue it's the best of both worlds and the perfect option for the fighter on a budget.
Bad Girl Starter MMA Gear Bundles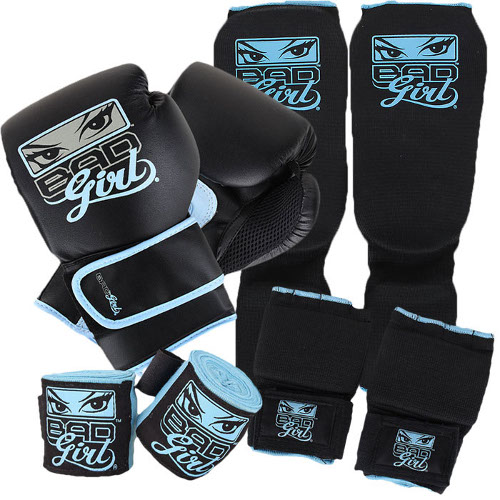 Don't worry ladies, we didn't forget you. Women's MMA is currently going through the roof in terms of popularity. The sport offers an outlet for girls who don't want to put on tights and ballet shoes, but rather strap on some gloves and punch it out. Bad Boy MMA gear has been a household name for the men for many years.
However, the company has recently moved into the women's MMA world with their Bad Girl line of equipment. Included in that line is the Bad Girl Starter Bundle, which is perfect for women who are stepping into a gym or the cage for the first time.
What's Included
Much like the Venum Absolute 2.0 bundle, the Bad Girl Starter Bundle opted for boxing gloves instead of 16oz gloves. Also in this set, you'll notice that there isn't sparring headgear included. Instead, you'll get a pair of Bad Girl Easy Wrap and Bad Girl Hand Wraps. Shin guards are also included in this bundle like many of the others on this list.
Women's MMA is it's own sport and deserves it's own branding. Bad Boy took this into account and nailed it with the way that they created this bundle. Aside from the equipment itself, which we'll get to, women can choose from either light blue or pink color tones for their bundle. Sure, not all girls like these colors. But just because you are an MMA fighter doesn't mean that women should sacrifice their feminine side. And with Bad Girl, you certainly won't have to do that.
Bad Girl Boxing Gloves
The Bad Girl Boxing Gloves that are included are a great choice for starters and veterans alike. Instead of 12 or 16oz, they are 10oz, which gives women the chance to acclimate to heavier gloves. It's also perfect for smaller women fighters such as straw weights or bantamweights. Don't be fooled by the size and color, though. These gloves come packed in every other way and will quickly help women fighters develop the hand speed and characteristics that are needed to maximize their striking game efforts.
Shin Guards
The shin guards for the Bad Girl Start Bundle are step ins, which often means that they'll be a bit easier for women of different sizes to fit into. The material that these shin guards are made of are also very comfortable, which makes for better, longer-lasting, training session in the gym.
The best thing about this bundle may be the fact that it is priced at a point where any woman can get started in the MMA world immediately. Most of the time this set comes in under $100, which you can't beat with most other options. After the ladies pick up this set, they'll only need some fight shorts and a rash guard and they'll be set to get things going right away.
Thanks for visiting the MMA Nest, use social buttons on the left to give us the thumbs up