In our last post we looked at some of the most economical MMA Gear Bundles for anyone interested in getting into the sport. Today we shift gears to the kids. Boxing or sparring can be very beneficial for both young boys and girls for a number of different reasons. Even if your child never goes into the ring for real, learning how to dedicate their extra time to this kind of pursuit can help them to set and reach goals in other parts of their life. 
If your child is eager to take up boxing or martial arts, then choosing the right type of kids boxing gloves is going to be essential.
What Should You Look For In Kids Boxing Gloves?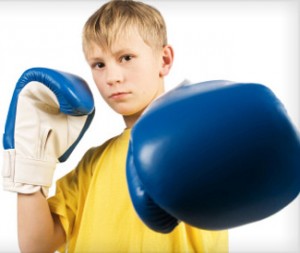 When you are looking at kid boxing gloves, you should keep in mind that safety is essential. Kids gloves often have a lot more padding to them than gloves used by an adult because of the need to protect the bones of the child's hands.
These gloves also have other safety features built into them that will help to prevent injury to both fighters, as well as features designed to make putting on gloves and taking the mob a lot quicker and easier for both children and adults.
What Size Should You Buy?
There are often different considerations when purchasing boxing gloves for children, rather than for adults. For example, adult boxing gloves range in sizes from 8 ounces to 20 ounces, which are mostly used for the larger weight classes. On the other hand, kids boxing gloves tend to be much lighter yet significantly larger in size because of the added padding.
It is also important to consider that there is a difference between glove size and glove weight. In both adult and child sizes, glove size and glove weight do not necessarily correspond, and so you may need to experiment to find the right glove size as well as the right glove weight for your child. In most cases a good sizing can be:
Recommended 5 – 8 year olds :  8 or 10 oz. kids gloves
Recommended 9 – 12 year olds : 12 oz. kids gloves
Which Products Are Most Popular Right Now?
At one time, there were few options in terms of finding high-quality boxing or sparring gloves for younger fighters, but now when you go online you will see that there are many different options. You can find more traditional boxing gloves that look like something that may have been used in a gym 50 years ago, while you can also choose from a variety of exciting and colorful gloves that are appropriate for both boys and girls.
Bad Boy Youth Training Boxing Glove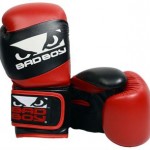 These are one of the most popular engineered leather gloves on the market today for younger fighters. They are designed with a number of safety features specifically for youth, including an attached thumb, and a high quality inner lining that will enable the hand to breathe during long workouts.
These gloves have an extra strength Velcro strap that will help to ensure a tight yet comfortable fit along the wrist. These include highly detailed logos, substantial padding throughout the gloves and inner lining. They weigh between 6 – 10 ounces, which is ideal for younger athletes.
 You can find these gloves at the MMA Outlet website!!
Ringside Youth Safety Sparring Gloves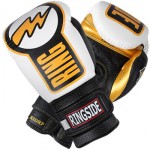 Something that every young fighter needs is a pair of high quality sparring gloves, allowing them to get the realistic feel while also providing a high level of protection. These Ringside Youth Safety Sparring Gloves are 100% leather, full wraparound, with a hook and loop closure. This makes them easy to put on and take off, no matter what the age of the fighter.
These gloves are available in both 10 pounds and 12 ounce size and are completely padded with an attached some for safety. They also have a quad layer of foam system that helps to protect the hand while also providing a fair amount of ventilation for both the palm and the thumb.
Revgear Youth Deluxe Sparring Gloves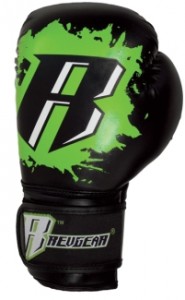 If you have been looking for a more affordable pair of sparring gloves for your youngster, then the Revgear Youth Deluxe Sparring Gloves may be a good choice for you. These are made from synthetic leather and are designed to specifically fit a smaller child's hand.
They are impact resistant which means that they have a high level of padding to protect young hands, yet to also provide a realistic boxing experience for fighters of every level.
These have a 4.5 inch cuff width, two inches of padding, and weight 8 ounces, which is considered to be appropriate for a smaller child or new fighter.
Where Can You Get The Best Deal On Kids Boxing Gloves?
The type of boxing gloves that are going to be right for your child will depend on a number of different factors, including how experience they are at training or fighting, their age and size, and the kind of training that they are doing. Not all gloves are going to be appropriate for all children, and you may want to talk to your child's trainer before choosing any kids boxing gloves.
You can find these high quality Kids gloves at the MMA Warehouse Website!!
Thanks for visiting the MMA Nest, use social buttons on the left to give us the thumbs up