In our reviews of shin guards for MMA athletes, we've taken a look at some top-of-the-line options from Hayabusa and Venum, as well as lower end options from Combat Sports. Right in the middle of all of that is the Revgear Defender Gel Shin Guards.
This is a mid-range option that is priced appropriately for those on a budget, but it offers enough stability to where athletes can expect to have them in great shape, no matter how much of a beating they put on them. Here is a look at the Revgear Shin Guards and what makes it such a great option for shin guards for MMA athletes.
Look And Style of the Revgear Shin guards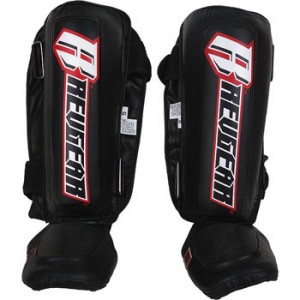 One thing that most athletes don't like about the Combat Sports shin guards is that they don't look very fancy. They have a simple logo on them and that don't offer the same aesthetically pleasing look of Venum or Hayabusa. Revgear is somewhere in the middle.
To some, the logo that is on the shin guard looks really slick and is greatly appreciated. To others, maybe it's a bit too much. However, one thing is for sure, and that is the fact that they certainly do not lack style points like the Combat Sports option for shin guards.
Aside from the logo that runs down the shin in a red and white color, the rest of the shin guard is all black. It's not quite as nice looking as the Venum brand of shin guards, but it's about the same as the Hayabusa Tokushu. There is also an added instep guard that will cover the entirety of the foot, even in athletes who have larger feet.
It would be nice if Revgear offered more colors, or just one extra color, but the original black and red does look good.
Durability and Fit of the Revgear Shin guards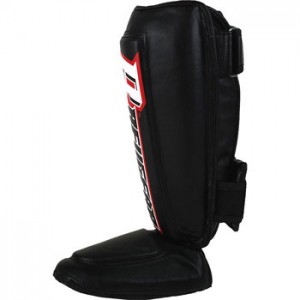 One of the best features about the Revgear Defender series is that the shin guards come in a pre-curved form. This means that the plate inside the shin guard is already contoured so that you don't need to break them in like you would have to with other guards.
This is extremely helpful, especially for athletes that simply want to take their shin guards out of the package and get to kicking.
Unlike some other shin guard options, this model offers an EVA and RAM-Force technology padding. This is most commonly referred to as a gel padding, rather than some of the other materials in other shin guards. This is important because it is easier on the athlete who is doing the kicking, as well as the person who they are sparring with. All in all, this gel padding is an appreciated feature.
On the back of the Revgear Defenders are two padded straps that will look your feat in. These straps wrap around the frame of the shin guard a few different times, which adds extra stability. There is also added attachments at the feet, which is perfect for that extra-long toe protector mentioned earlier.
Price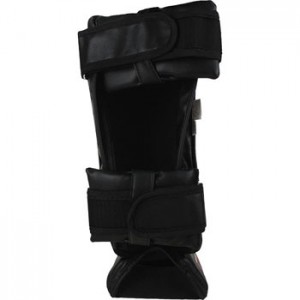 As mentioned in the opening paragraph of this review, the Revgear Defender is the perfect price point for athletes looking for a midrange option. You can find a pair of Defenders for around $70-$80. This is an especially great deal, consider what a quality set of shin guards these are. They are well worth the price and offer plenty of value.
Pros
RAM-Force Technology Padding adds for extra protection for both fighters that are sparring

Pre-curved out of the package, which means they are ready to go without breaking them in

Extra-long instep, which is great for larger athletes

 
Cons
Limited color options

A large logo on the front is something that you typically either love or could do without

 
Rating  out of 5 stars
Conclusion
When you consider the price and what you are getting, the Revgear Defender Gel Shin Guards may be one of the best options on the market for MMA athletes. Granted, some people may think that if they are willing to drop between $70 & $80 for these, maybe they'll step up to the Venum or Hayabusa models. While that is fine and completely understandable, keep in mind that you'll definitely get your money worth with the Revgear Defenders as well.
Thanks for visiting the MMA Nest, if you are a beginner remember to check out our MMA Beginner Gear Guide.