In our last article we looked at our picks for Grappling/MMA dummies. Now we change gears to Shin Guards. Venum is known for it's line of MMA gear that not only protects fighters, but it also has the iconic snake logo that looks great as well.
The Venum Predator standup shin guards are the one of the most popular shin guard options on the market. They look great and also come with a price tag that is comparable to other products of equal quality and value.
You can the Venum Shin Guards at discount at the MMA Warehouse website!!
Look And Style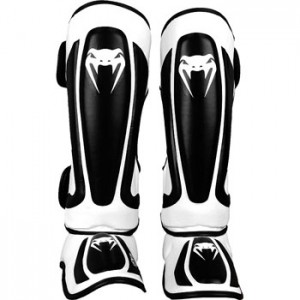 If you like the look of Venum gear, you are going to love these shin guards. The symbol of the snake that is on all Venum gear is known for being seen on shirts, shorts, ring banners, shin guards and more.
On this particular pair of shin guards, the snake head is located centrally on the front of the padding, so whoever you are sparring with will see it coming right at them.
As for the rest of the color scheme, there are two options to choose from. The first choice is a appealing multi-colored black and white shin guard, while the other option is an all black guard that has the white viper on the front.
Both options look physically great and would be the perfect fit for someone looking for stylish and reliable shin guards.
Durability and Fit of the Venum Shin Guards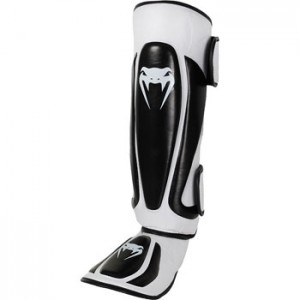 No matter how great a pair of shin guards look, it doesn't make a difference if they aren't durable and comfortable. However, this will be the least of your concerns with the Venum Predator Standup shin guards.
The material that these shin guards are made from is a 100% synthetic leather and buffalo leather. This offers not just a comfortable fit, but it's also incredibly durable as well.
No matter how many kicks you give to your sparring partner, these shin guards are going to hold up and remain a reliable pair of equipment to keep in your gym for years to come.
This high-density foam also adds support to fighters, so that they will get less shock as they make contact with their sparring partners.
Design of the Venum shin guards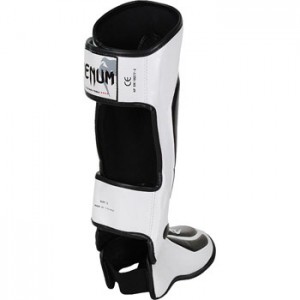 The design of the Venum Predator shin guards includes an open back are that does not enclose your calf. This has multiple benefits, as anyone who has ever thrown on a pair of shin guards can attest to.
First of all, there are two large straps that allow you to Velcro your shins and calves in for a much more comfortable fit.
Secondly, it is this customized fit that will allow fighters to not worry about their shin guards slipping up and down their leg so they can train in comfort. Lastly, there is more breathing room for the leg, which means less sweat. Less sweat means less slipping will likely occur when you are doing your sparring.
Price
Coming in just around $100, the Venum Predator's are reasonably priced in comparison with other shin guards on the market. Keep in mind that while you can get much cheaper shin guards for a lesser price, Venum is a well known brand with a reputation to boot. You certainly are getting what you pay for with the $100 investment and these shin guards will last you for quite some time to come.
Pros
Beautiful looking design with iconic Venum logo

Extremely comfortable and light weight

Adjustable Velcro strap allows for the perfect fit, no matter the size of the fighter

Special shock absorption material to make contact easier on fighters

 
Cons
If you are nitpicking, you could argue that $100 is steep for shin guards – but you get what you pay for and these are worth the price
Rating:  out of 5 stars
Conclusion
You can't go wrong with the Venum Predator Standup Shin Guards. If you are looking to make an investment into a quality pair of shin guards that will last you for some time to come, these are a great option. They look great physically and will keep your shins in good shape as well. Other shin guards in the market should look to these shin guards and follow suit in terms of how to correctly make a pair of shin guards that everyone is going to love and want to wear.
Thanks for visiting the MMA Nest, if you are a beginner remember to check out our MMA Beginner Gear Guide and use the social buttons on the left to give us the thumbs up.