In our last article we looked at the Hayabusa MMA Gloves. Today we assemble our top picks for wrestling training shoes.
If you want to keep your opponent on his toes, then you need to know that you can also put him on his back at any given time. Having a great wrestling game is vital for anyone who wants to be successful inside the MMA cage.
Some of the most prolific wrestlers in the world have made the transition to MMA, simply because of how dominating they can be when they get their opponent stuck in a solid lock. In order for you to make your way up the wrestling ranks, here are the top five best wrestling shoes within budget that you should consider adding to your gym bag.
ASICS Men's Split Second 9 Wrestling Shoes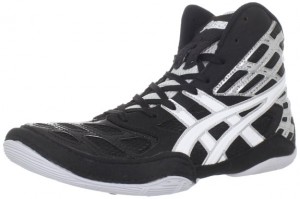 In the blink of an eye, your opponent can be down and on his back and you can be on top of him in dominate position. Therefore, it only makes sense that you'd want to consider the ASICS Men's Split Second 9 Wrestling Shoes when this sport can literally come down to split seconds making a difference.
This specific shoe is one of the most well known in the wrestling industry, being a common go-to for countless wrestlers around the world. That praise comes for good reason, consider how much these wrestling shoes offer.
With the ASICS Split Second 9's, you're looking at a synthetic and mesh material, which is perfect for keeping your feet cool and comfortable. But what might be most importance is the split synthetic sole, which will allow you to get good traction on the ground when you are going in for the takedown on your opponent.
To top it all off, the ASICS Split Second 9's come in four different colors to choose from, which is perfect for matching up with training partners from your gym or choosing a color to symbolize your unique taste.
ASICS Men's Split Second 9 Wrestling Shoe,Black/White/Silver,10 M US
Adidas Wrestling Men's Adizero Sydney Wrestling Shoe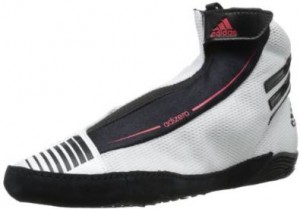 One of the most annoying things about lacing up your wrestling shoes is having to double-knot or even tie back your laces. But with the Adidas Adizero Sydney Wrestling shoe, you can kiss those concerns goodbye.
These killer shoes have a great slit up the side that hides the laces, while also offering a strap at the top for added comfort.
If you are someone who doesn't like to use socks, the Adizero's will be perfect for you as well. They are made of leather, so they offer advanced breathability after hours of training.
However, having no socks will give you a better fit when you are rolling around with your sparing partners.
If the hidden laces weren't aesthetically pleasing enough, also keep in mind that these shoes have the typical Adidas three-stripes on them. It's a nice added touch that truly furthers the overall appeal of these wrestling shoes.
Adidas Wrestling Men's Adizero Sydney L Wrestling Shoe,Running White/Black/Collegiate Red,13 M US
Nike Inflict Men's Wrestling Shoes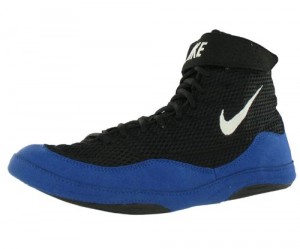 The Nike Inflict Men's Wrestling Shoes look more like something you'd see a basketball player wearing on the hardwood, but that doesn't mean that these shoes don't handle their own on the mat as well.
What's really great about these shoes is the gum rubber outsole, which provides traction at any angle you are on the mat. So whether you are going in for the shoot or you are already on top of your opponent in a full-mount, you'll have plenty of grip and traction underneath you.
The material of the Nike Inflict wrestling shoes are an upper mesh, which is incredibly breathable and adds to freedom of movement. They also keep your feet comfortable, especially if you've been training for hours on end.
If you are looking for a wrestling shoe that is anything but ordinary, these are it. Not only do they look completely different on the bottom, but the added strap at the top is also a nice complement and adds to overall comfort.
In all, these shoes are great for getting in some mat work.
Mens Nike Inflict Wrestling Shoe Black/Sport Royal/White Size 10
Adidas Men's Matt Wizard IV JS Wrestling Shoe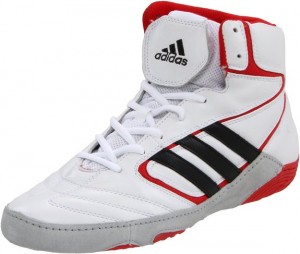 Another pair of Adidas shoes that caught our eye was the Matt Wizard IV JS Wrestling Shoe. If you prefer to keep your laces on the outside, but you still enjoy the fit and comfort of Adidas, then these are a great option.
And luckily for you, they still offer a strap that allows you to put your laces into, without getting rid of them altogether.
The Wizard IV also come with an adiWEAR outsole, which adds maximum grip and comfort to the outside of the shoe. But it's also so beautifully built, that you hardly notice a different in fabric in comparion to the rest of the shoe.
These shoes are also great for running, due to the flat sole. That means you can get an entire workout in, all in the same pair of reliable wrestling shoes.
adidas Men's Matt Wizard IV JS Wrestling Shoe,White/Black/Collegiate Red,10.5 D US
ASICS Men's Matflex 4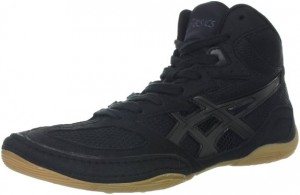 Another option from ASICS is the Matflex 4. These shoes are plain and simple, which is perfect for those wrestlers who don't need a flashy pair of shoes to prove how dominate they are in the ring. They are simple in color, with a black and tan material, without too much other design.
However, the material is made of a synthetic mesh, which is great for breathability and the bottom is made of rubber, which is ideal for grip and comfort. If you are looking for something that is plain, simple and equally as powerful, the ASCIS men's Matflex 4's are a great option to consider.
With these five shoes, you'll be able to gain control on the mat. Soon we'll take a deeper look into these shoes and what we truly enjoy about each of them individually.
ASICS Men's Matflex 4 Wrestling Shoe,Black/Onyx,6.5 M US
Thanks for visiting the MMA Nest, if you are a beginner remember to check out our Beginner Gear Guide.