In our last post we looked at the Venum Electron 2.0 MMA Fight Shorts. Today we put the Combat Sports Guards on center stage. MMA athletes who need a quality pair of shin guards, but don't want to drop the serious coin to get a name brand like Venum or Hayabusa, can take a look at the Combat Sports Grappling MMA Shin Insteps as an alternative choice.
They don't quite offer everything that some other options do, but they are a popular choice for those that are on a budget or for the athletes who are just trying out the sport and don't want to put too much money into their gym equipment just yet.
Look And Style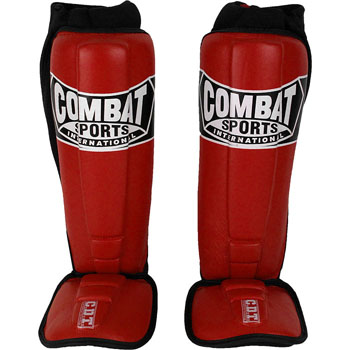 The Combat Sports Grappling MMA Shin Instep Guards aren't anything overwhelmingly special when it comes to appearance. Instead, they are quite plane, as they come in only red and they offer a red padding on the front. They do say "Combat Sports" down the back part of the calf, which is one of the added bonus features.
This particular shin guard doesn't stand out as much as, say, Hayabusa or Venum. Those are beautifully designed shin guards and Combat Sports certainly doesn't put as much effort into building their logo as they do simply providing a shin guard for the budget market.
One nice thing to consider with look and style is that if you have a gym bag full of Combat Sports equipment, such as training headgear or gloves, then it's likely that they will all have the standard red color. That makes it easy to match all of your gear, with the budget price tag that comes with Combat Sports equipment.
Durability and Fit
When you are taking continual strikes at an opponent with kicks, wearing shin guards should help you protect your legs from impact and bruising. Unfortunately, this specific pair of Combat Sports padding doesn't do nearly the job that some other shin guards do.
The material is made of a simple neoprene support system, which isn't nearly as sturdy or protective as other materials on the market. This means that you won't get the type of shin protection from this specific pair, as you would from other, more durable, shin guards.
The one good thing to consider about these shin guards is that while fighters do wear protection during practice to keep them safe, there is a stigma about wearing too much padding because it won't train your legs to take a beating during a real fight.
Any MMA fighter who saw Anderson Silva shatter his leg on Chris Weidman's shin can attest to the importance of proper shin strength. The irony of the Combat Sports shin guards is that, while they may not provide you with the most support for attacking, they may actually be a considerable option considering they'll beef up your legs a bit and prepare them to take a beating.
Another important factor to consider with any shin guard is how they fit around the calf muscles. This particular pair of shin guards from Combat Sports offers a hook-and-loop system that offers added support. The only down side is that there isn't as much room for ventilation, which can make your legs get much hotter more easily.
Anyone who's trained for hours on end knows how important it is to have proper breath-ability with your training gear, and it's limited with this specific pair of shin guards.
Price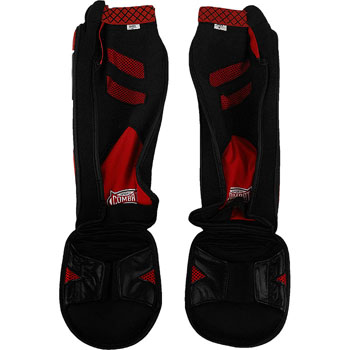 The true highlight of this specific pair of shin guards is the price. You can find a pair of these for just under $50. Add in the fact that you can get a pair of training gloves for around the same price and your looking at gloves and shin guards for less than $100. Considering other shin guards are often $100 separately, this is a great deal for those that are on a budget.
Pros
Great price that you would expect from Combat Sports

Although padding isn't as strong as others, this will help build leg strength

Unique hook-and-loop straps for support on calf muscles

 
Cons
The strength isn't as durable as other shin guards (like Hayabusa)

Limited options to choose from for those looking for an attractive looking shin guard

Your shin will likely get more hot with the limited ventilation in the back
Rating  out of 5 stars
Conclusion
This is a typical case of, "you get what you pay for" in the MMA equipment market. This is a good pair of shin guards to go with if you are on a budget or just getting involved in the sport. However, you may want to consider that these likely won't last you as long as other options on the market.
Therefore, you can buy one pair of $100 shin pads that will last you years to come, or multiple pairs of $50 shin guards that you have to switch out every year. At least with the $100 pairs –in the case of Venum- you get a great looking style as well. MMA athletes may want to consider these shin guards if it's the only option, but keep your eyes open to other choices on the market.
Thanks for visiting the MMA Nest, if you are a beginner remember to check out our Beginner Gear Guide.